Pat Appleson Studios,Inc.
BellSouth Network
Information Guide

Integrated Services Digital Network, Your Connection to Tomorrow's Solutions.... Today
Typical ISDN-Based Sound Connection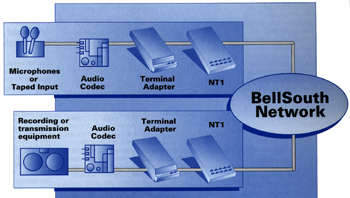 ISDN connections make the transmission of high-quality sound as simple - and as inexpensive - as a dialed telephone call. A single B channel offers a 15 kilohertz line for monophonic transmission, while two bonded B channels offer a 20 kilohertz connection for high-quality stereo. ISDN connections are used for live recording, for on-site news and sports broadcasting, and for transmitting finished work - commercials, sound tracks, narration and more - between distant locations.
©1995 Bell South Business Systems, Inc. All Rights Reserved, used by permission.
High-Quality Sound
The growing availability of ISDN audio codecs (coder-decoders transform high quality audio signals into digital pulses, and vice versa) has opened a wave of high-quality sound transmission through the end-to-end digital connections of ISDN. Today, 15KHz (kilohertz) monophonic sound can be sent through a single B channel, with 20KHz stereo signals transmitted through the two bonded B channels of a BRI.
"Prices for ISDN equipment are beginning to come down", says Dave Immer of Digifon Productions in New York City. Immer is a sound engineer and producer, who also distributes a nationwide directory of ISDN-capable studios. "While compatibility between codecs from different manufacturers can still be a problem," he notes, "things are getting better fast." Several services now exit, he said, that can link equipment at one studio to differing equipment atanother studio. Using ISDN, both locations merely dial into the service, which then literally "hard-wires" the two connections together.
Linking Studios Together
Today, more and more sound production studios are beginning to work together on virtually every type of project, from commercials and voice-over narrations to music scores for films, television and other productions.
Pat Appleson Studios in Fort Lauderdale, for example, regularly uses ISDN to prepare and distribute radio commercial for both regional and national clients, including more than 200 automobile dealers throughout the U.S.
According to owner Pat Appleson, he and his staff receive live and prerecorded voice tracks, as well as a range of music tracks from other locations throughout the nation. The studio also transmits many finished commercials to radio stations across the South. Since Appleson himself is also a voice talent, ISDN is just as frequently used to transmit his live narrations to other studios for commercials, films and similar projects.
"In the past, we shipped finished work on open-reel tapes by overnight couriers," says Appleson. "And when I did a live narration, I most often got in the car and traveled somewhere. Today, the dialed digital connections of ISDN are carrying more of what we do to more and more locations".
-[30]-