Pat Appleson Studios has the solution to your next project.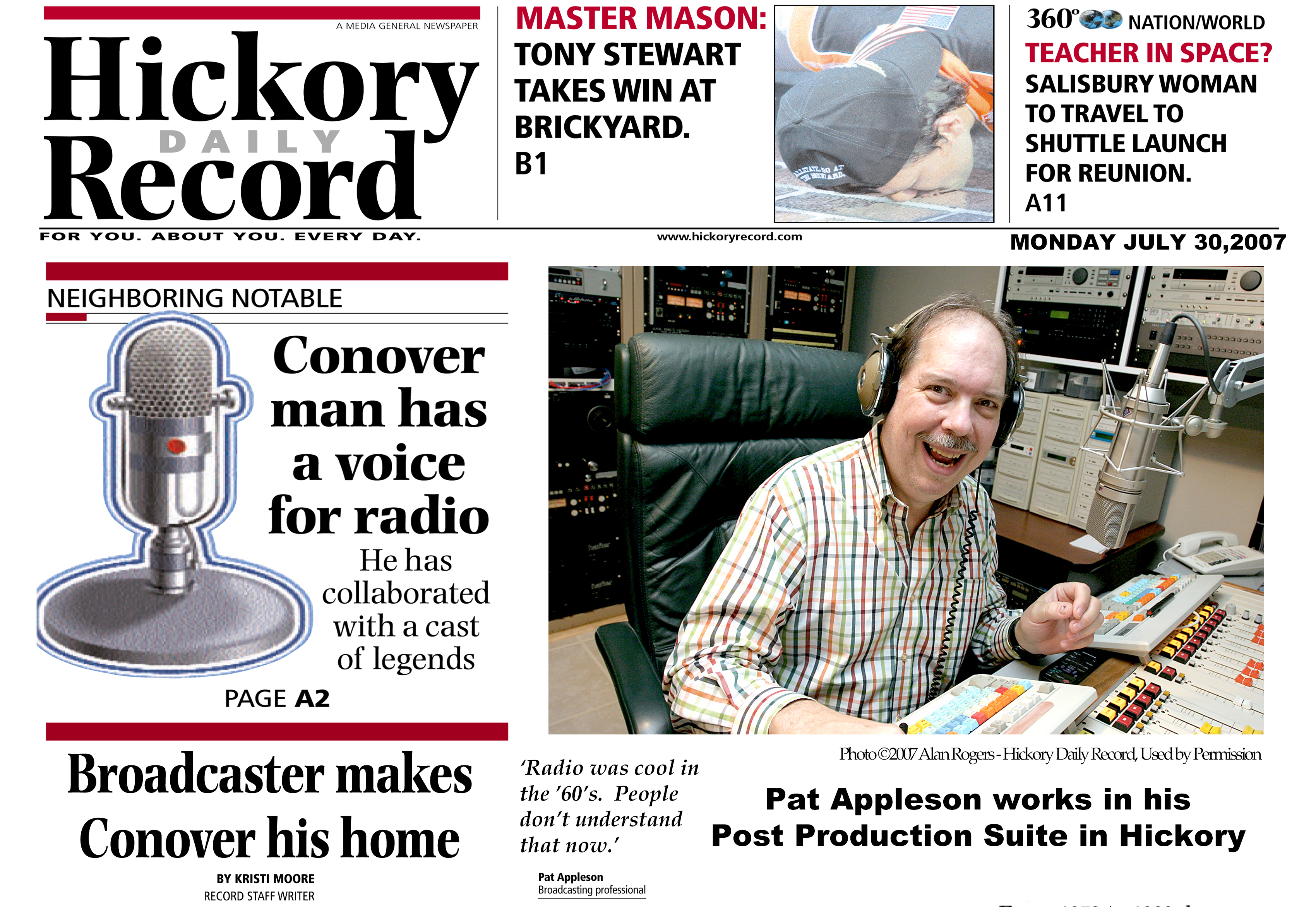 Feature Story, Kristy Moore, HDR Staff Writer
- Monday July 30, 2007- HICKORY- At the age of 12 he was spinning turntables at a school dance. After years of being a disc jockey and getting his studio off the ground, Pat Appleson is now living in Conover as the president of a full-service advanced-technology video and audio production facility. With more than 30 years of commercial broadcast experience under his belt, Appleson is president of Appleson Studios where he spends most of his days in a hands on capacity interacting with clients, coordinating personnel for upcoming shoots, laying down voiceovers and personally ensuring the quality of production for all of his clients — whether they are prestigious firms or local merchants. "By the time I was in seventh grade, I was working at a network station," Appleson said. "After that, I went crazy for radio, and it was all downhill from there."
The next thing he knew, being on the air was paying his way through college at Ferris State College in Big Rapids, Mich., where he received a bachelor's degree in electrical engineering. He went on to obtain numerous licenses and certifications.
One of his most recent projects relevant to Hickory includes a DVD of Hickory representatives winning the All-America City award in California during the spring. The 30-minute show will air on Charter approximately 50 times this week.
Although the national headquarters of his studios were in Fort Lauderdale, Fla. for the past 16 years, he has recently relocated Appleson Studios to Hickory to escape hurricanes and accommodate the increasing business market of the Charlotte region. After one year in the Hickory area, Appleson has found numerous reasons to be fond of the area. "Getting to know people up here is very easy," he said. "I like the folks."
Besides the All-America City award presentation, Appleson has also done a video chronology of Floyd W. Lucas Jr., the outgoing chief with Hickory Police Department, and his 27 years or service.
He is also a member of the Catawba County Chamber of Commerce, where he is the official photographer.
To mention a few of his notable attributes and accomplishments, Appleson has been selected by the United States Department of Defense as a Qualified Video Tape Producer and supplied theArmed Forces Radio and Television Service with production capabilites during Operation Desert Storm.
Prior to starting Appleson Studios, Appleson was the highest-rated afternoon on air personality of Miami's premier country music radio stations, WWOK-AM & WIGL-FM. From 1972 to 1983, he was the anchor for the Miami PBS affiliate fundraising auction. Appearing annually for two-week periods, his outgoing personality and on air presence generated the most dollars for the public broadcasting station during that time. Over the years, he has worked with talent as diverse as David Cassidy, Dolly Parton, Loretta Lynn, Johnny Cash and many others. In addition, Appleson's client list includes Miami City Ballet Inc., National Public Radio., ABC Radio Networks, The History Channel, Citadel Communications Corp., FOX Television and more.
He said his favorite was working with Gene Kranz, who was played by Ed Harris in the movie "Apollo 13," because Kranz tells stories about NASA. He has supplied production services for General Electric Corp. through NBC Television Special Projects in Burbank for commercials that aired during the Salt Lake City Winter Olympics. "I really enjoy it because I get to do so many different things," Appleson said. -[30]-
©2007 Hickory Daily Record - All Rights Reserved, Used by Permission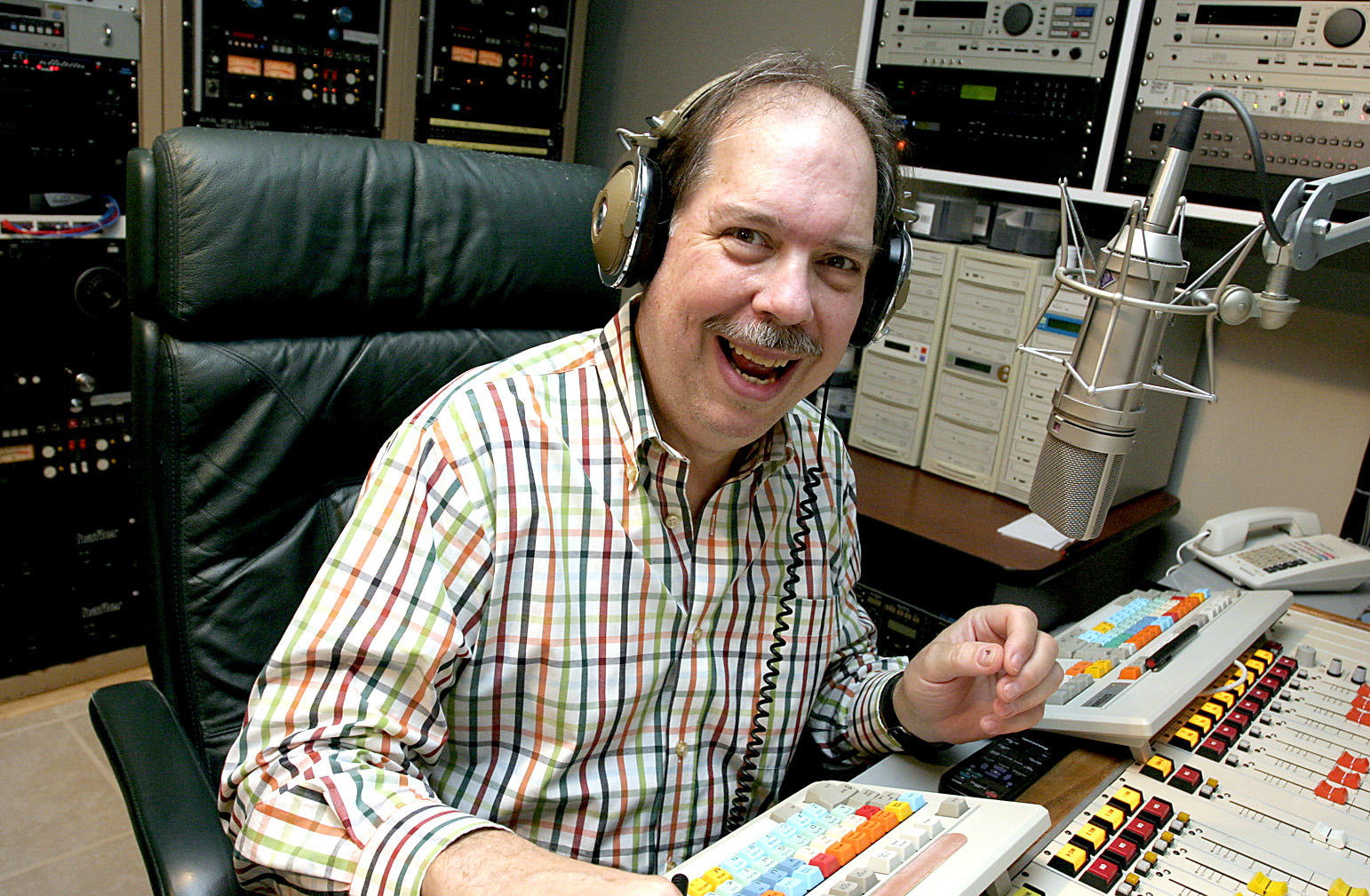 Photo ©2007 Alan Rogers/Hickory Daily Record, Used by Permission