Pat Appleson Studios has the solution to your next project.
In Memoriam, Johnny Irons, 1939 - 2009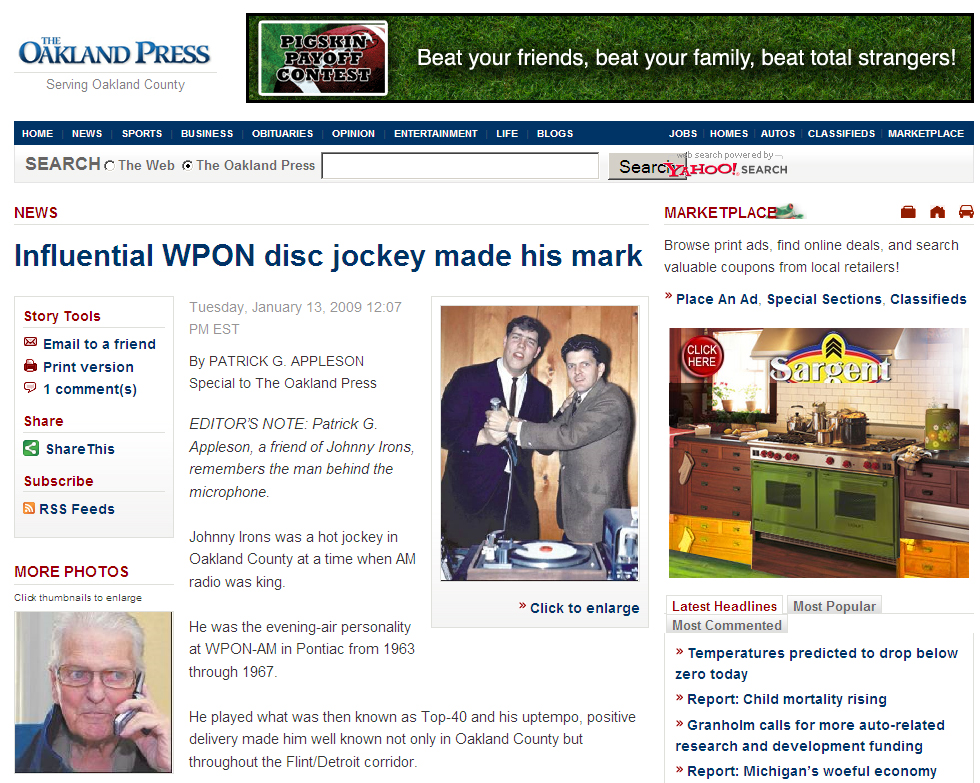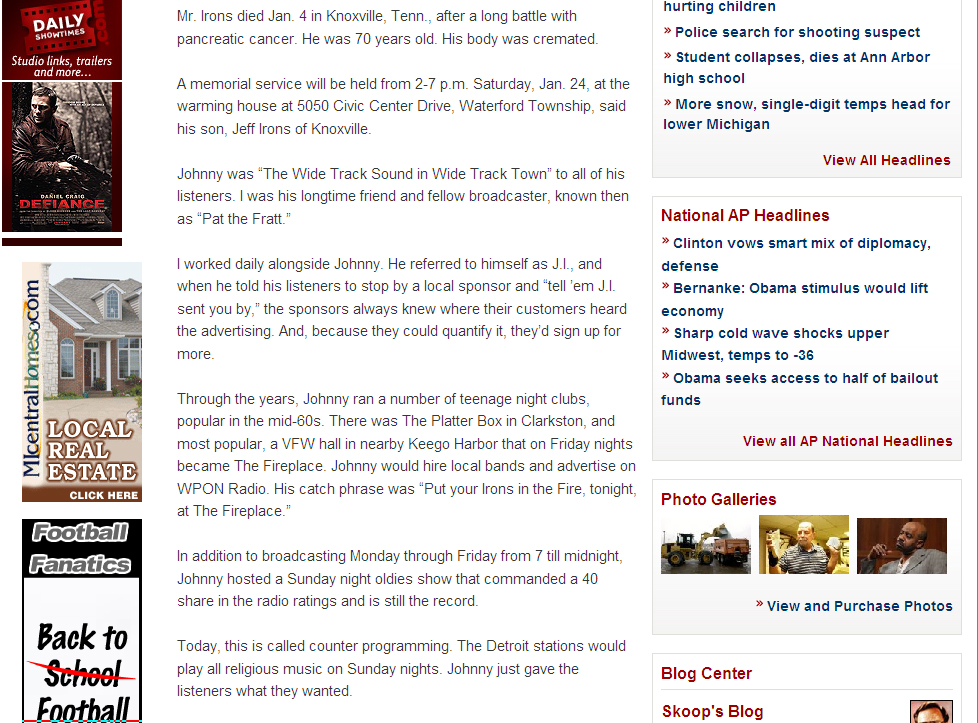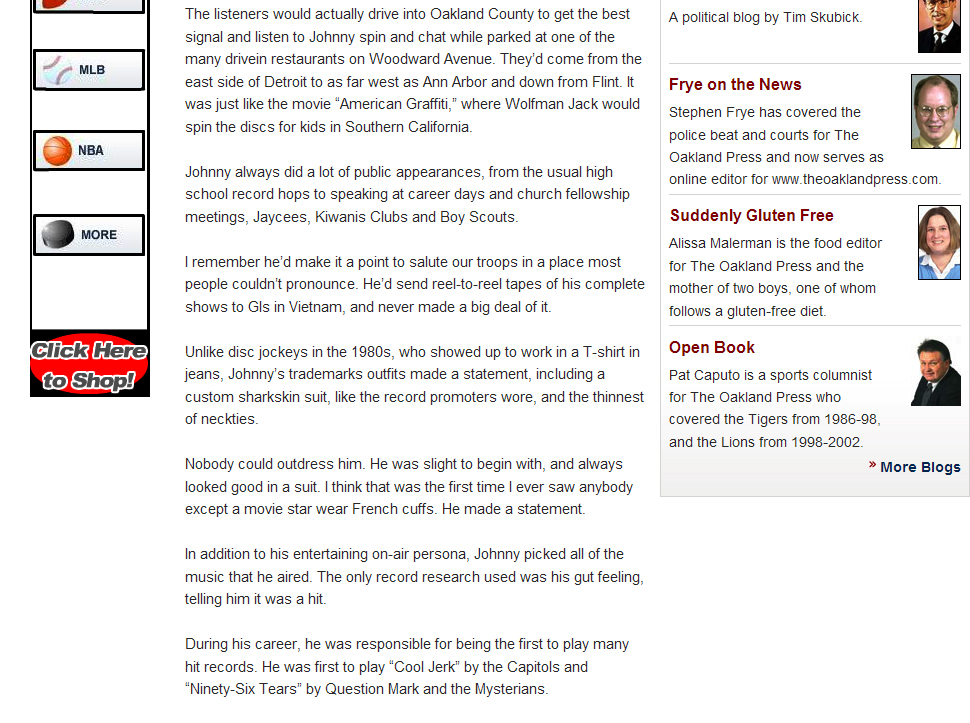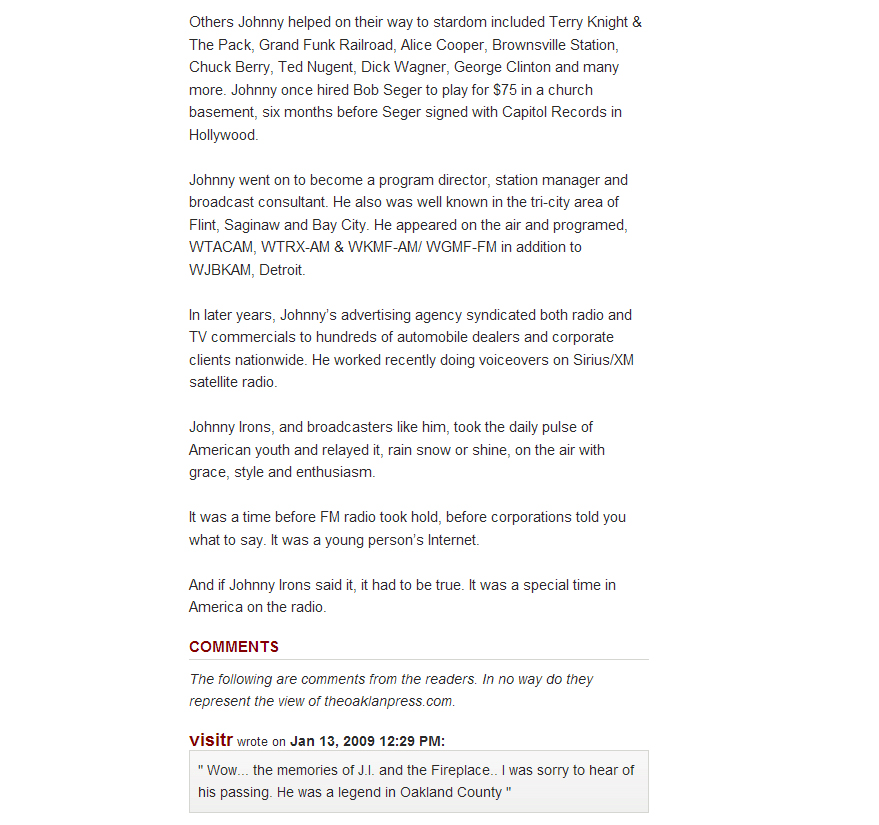 Story Copyright: ©2009 Pat Appleson Studios, Inc. All Rights Reserved, Used By Permission with special arrangement by The Oakland Press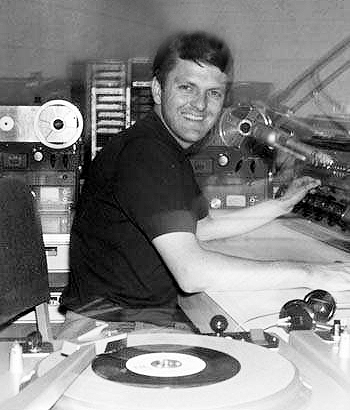 Michigan Radio Personality Johnny Irons, passed away on January 4, 2009, after a long battle with pancreatic cancer, he was 70 years old. Johnny was a one of a kind item, with a unique and engaging style that brought the listeners back for more. He was a friend, confidant & mentor to a seventeen year old who wanted to be a Broadcaster. His passing came as a great shock. You never think of your hero's as getting old. Johnny was a legend the suburbs of what used to be called The Motor City and I shall miss him dearly - Pat Appleson - Jan 2009 Photo: Johnny Irons at the WPON-AM Pontiac Broadcast Console, Oct 1966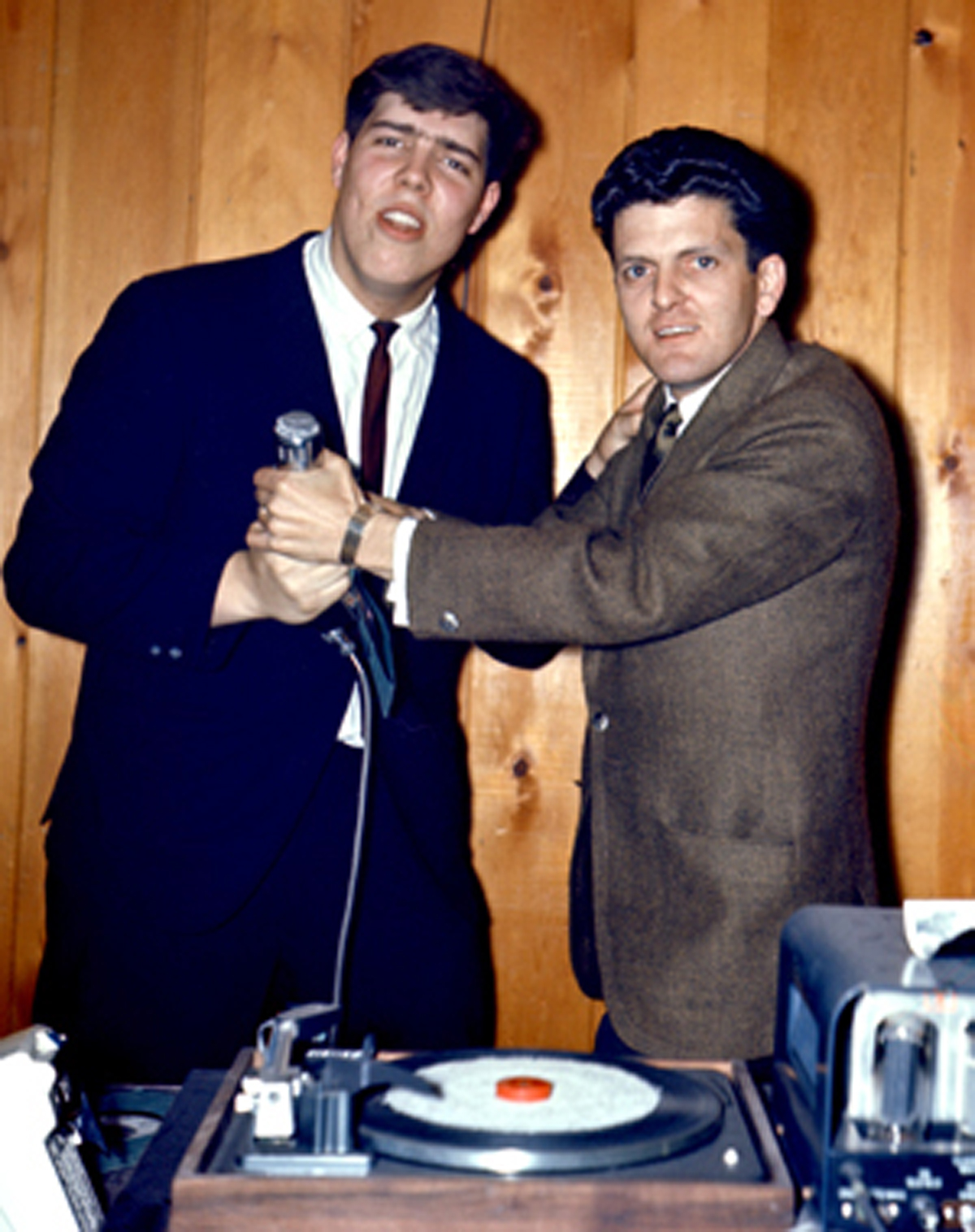 Pat Appleson and Johnny Irons practice Microphone technique in the Knotty Pine room of "The FirePlace" teenage night club. The FirePlace was a VFW hall in Keego Harbor, Michigan that magically became The Place to "Put your irons in the fire, with Johnny Irons, WPON Air Personality. Photo ©1966 Pat Appleson Studios, Inc. All Rights Reserved
"Johnny Irons was the evening Top 40 personality at WPON in Pontiac, Michigan. The station was a 1000 watt non-directional at 1460 kc on the dial. But it had a strong following in suburban Detroit by covering more than one-third of the Detroit area. At the time the station was run by real pros and the client list showed it. Many Detroit proper stations would kill to have a list like WPON had. Johnny was much older than me, I was seventeen and he was a worldly twenty-four. Teenage dances were big at the time, with the big Detroit stations fronting three of four on a weekend. And guys like, soon to be WMCA-AM New York Radio Good-Guy, Gary Stevens cutting into our turf. He ran a Saturday night dance while a jock at WKNR-AM Dearborn, at the Waterford C.A.I. building. I thought the 'Pat the Fratt' thing was a little weird until I saw this guy put on a furry wolf suit, call himself the Wooly Burger and walk around the dance hall chatting up chicks. He looked like Chewy the Wookie's brother in law. So Johnny & I, with the stations blessing, opened The Fireplace.Which was really a VFW hall in nearby Keego Harbour. Things went well for about eight months. The bands would play free because we would say their name on the radio and they thought they'd get signed by Motown or somebody. We got the Radio Spots free, management didn't care just as long as the other spots ran and we logged everything to keep it legal. Everything was ok until the Keego Harbour Police Dept. figured out that we were hiring off duty Oakland County Sheriffs Deputies for security instead of them. So they got our 'cabaret license' revoked. When Johnny heard about it, he locked himself in the control room and played Town Without Pity by Gene Pitney for seven and a half hours straight. The station made the newspapers the next day."
Legal ID use once per hour - Annc: "It's (insert time) O'Clock. This is WPON Pontiac, fourteen sixty on your dial, with studios in the Hotel Waldron." They wouldn't let the announcers come thru the main entrance on the other side of the building. It would have really been good advertising and classed the joint up. This is how it looked in the 1960's, we restored the sign in Photoshop in 1997. Look closely, 'free radio, air conditioned rooms, TV Available" I never saw a TV in the place, Johnny said he saw it once, but it was booked. - Pat Appleson 2009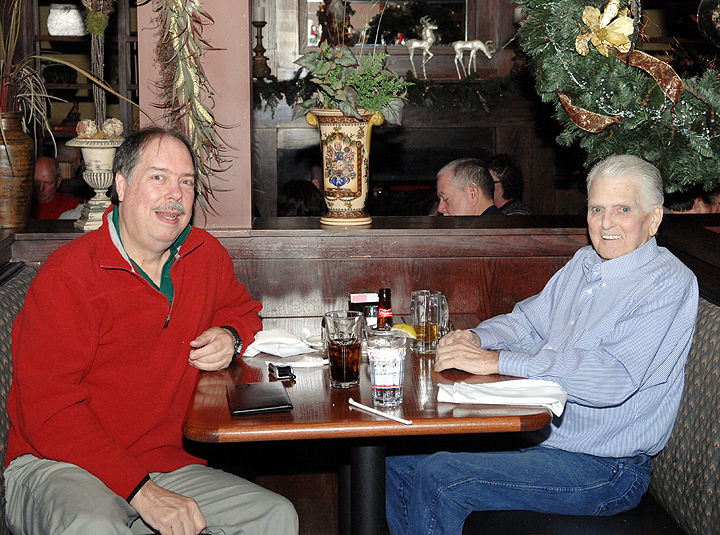 I visited with Johnny in Knoxville for the last time in December of 2008. We made plans for him to come to Charlotte in the spring to see me. Since his wife Sandy passed away last April, Johnny stayed with his son Jeff. His son is a prince of a guy and took care of Johnnie's every need. Jeff told me on the phone that John had always been his hero. You can't do better than that. - Pat Appleson 2009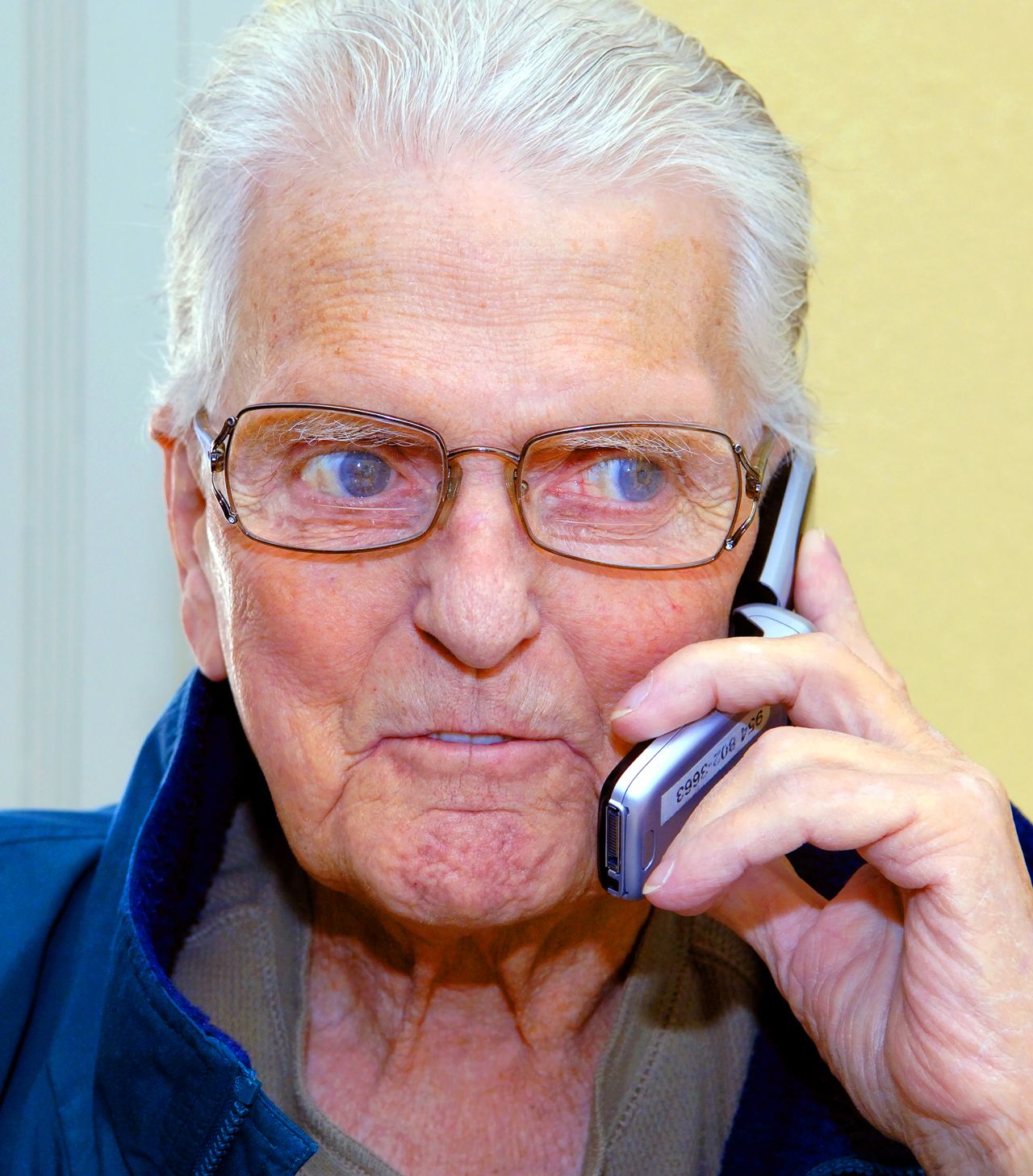 "Tell 'em J.I. Sent you by" - Knoxville, TN Dec 2008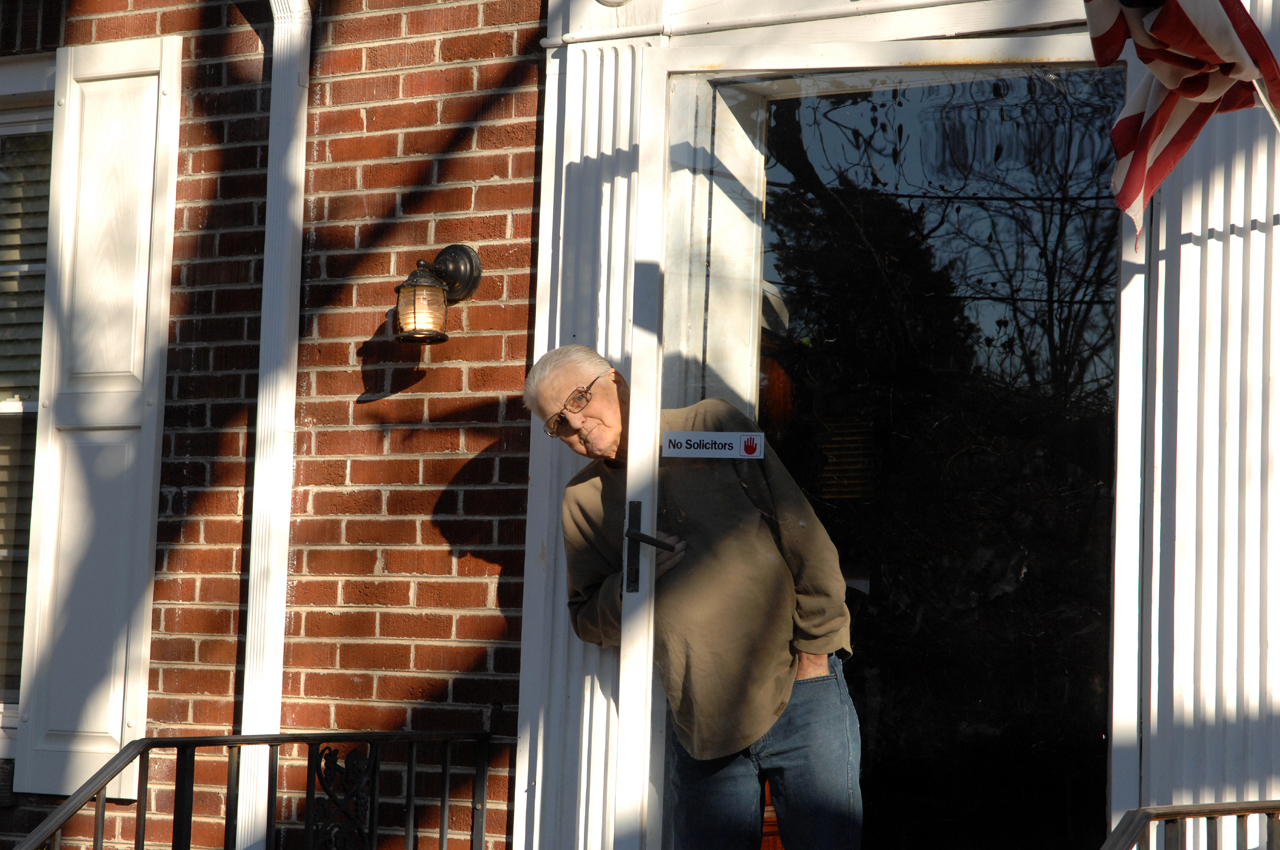 This is the last photo I shot of my friend. - Knoxville, TN - Dec 2008
Photos copyright: ©1966, ©1998 & ©2008 Pat Appleson Studios, Inc. All Rights Reserved, Used By Permission