Pat Appleson Studios has the solution to your next project.
South Florida Sun Sentinel
"Business Section"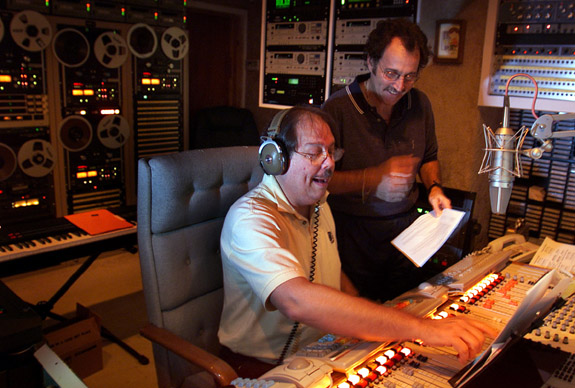 Editing the Tape: Pat Appleson, left, works on a television commercial in his eponymous studio in Fort Lauderdale. Rich Rudner, president of Rudner Production Group, works with him.
©2000 Sun Sentinel/Anastasia Walsh.

Film and video offer plenty of job activity in South Florida.
By Joseph Mann, Business Writer
So, you wanna be in pictures? Well, maybe now's your chance thanks to a mushrooming film, television and entertainment sector in South Florida.
In Lauderdale Lakes, Gravity Entertainment is developing an enormous complex of film, television and music studios that is expected to create 2,000 full and part-time jobs in stages as it's being built over the next five years.
In Delray Beach, Five Star Productions is adding nearly 20,000 square feet of production facilities and is planning for 25 or more new jobs over the next year.
And in Miami, the Cisneros Television Group is building a post-production facility and taking on a new Internet project for Ibero-America that will add 30 or more jobs to its current head count of around 120.
These are only three among the burgeoning number of projects related to production and post-production of films, television, corporate videos and music that are generating new jobs in the area. Commercial photography and Internet-linked "new media" also are important contributors to this job pool.
According to recent estimates, the film TV and related sectors support about 30,000 full-time jobs in South Florida, not including thousands in additional contractual and part-time posts, said Jeff Peel, director of the Office of Film and Entertainment for Miami-Dade County. "We've seen very healthy growth in the industry so far this year. And I expect to see rapid growth in the future."
Locally established firms of all sizes that provide the gamut of goods and services to the film and entertainment sector have done particularly well, he added. These companies include production equipment vendors, agencies offering artistic talent or skilled technical workers, vehicle leasing, props and stunt teams, editing, dubbing, computer animation and catering, to name a few. Other businesses, like clothing stores, restaurants, hotels and nightclubs, also benefit.
In Broward County, film, TV and related activities generated an overall economic impact of more than $247 million in 1998, the last year for which official estimates are available and supported the equivalent of 6,548 full- time jobs, said Elizabeth Wentworth, the county's film commissioner and director of the film and television commission of the Broward Alliance. There are about 354 companies in the county that supply goods and services to the industry, many of them small businesses with sales of under $200,000 per year.
And this sector continues to grow, she added, bolstered by television productions, corporate videos, film made by independent producers, the Internet and commercial photography. "This business is all about jobs, and the industry is helping to create jobs in Broward on a constant basis."
Palm Beach County also has added millions of dollars in new business and hundreds of job opportunities in the industry. With 24 local production companies, the country had estimated revenues of $104.6 million for the 12- month period through September 2000, up from the full-year 1999 total of $92.2 million, said Michelle Hillery, director of operations for the Palm Beach County Film & Television Commission. The county estimated that film, TV and associated activities supported more that 9,800 jobs in 1999, up from 7,909 in 1998.
While big-budget films and major studios from out of town often generate most of the glitz and publicity, hundreds of locally based companies, many of them small businesses, offer film and TV productions a steady flow of goods and services, and provide thousands of full and part-time jobs to South Floridians.
One of these is Pat Appleson Studios, Inc., a Fort Lauderdale production company that specializes in radio and TV commercials and corporate training and sales videos.
Pat Appleson, a former deejay and president of the company, said that his full-time staff is small, but that he contracts as many as 30 people for location shoots.
On a typical location assignment, he will use one or more actors, a producer, director, cameraman, TelePromptTer operator, makeup artist, wardrobe specialist, sound and lighting directors and stage hands.
The studio spent more than $1 million last year on payroll and production expenses, Appleson said. "There's a great pool of talent in Broward," he added. "We make it a point to use as many local professionals as possible."
-30-
©2000 Sun Sentinel, Inc. All Rights Reserved, Used by Permission