Pat Appleson Studios,Inc.
"Those Oldies But Goodies....."
Appleson Rocks the Boat!!!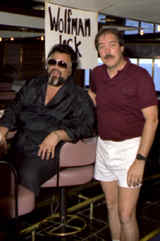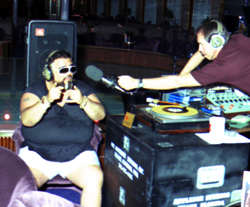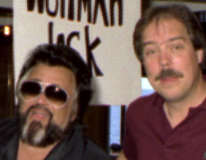 "Wolfman Jack" and Pat Appleson preparing for the daily oldies radio show aboard the M.S. Seaward somewhere in the Caribbean.
When Entertainment Tonight's Jeanne Wolf produced a pilot for her soon-to-be syndicated "Jeanne Wolf's Hollywood Flash", a 5 minute daily radio interview show, she came to Pat Appleson Studios, Inc., in Miami, Florida. Pat Appleson acted as Technical Director and Shep Morgan Produced for Ms. Wolf's Pentacom Productions, Inc. When asked why she wanted Pat Appleson to edit the likes of Cher, Michael J. Fox and Cybil Sheppard for her program instead of going down the block to Burbank, she replied, "He's the Best!".
Good enough reason, also, for Norwegian Caribbean Lines to call Appleson to help inaugurate their first "50's and 60's" cruise on their newest ship, the M.S. Seaward out of the Port of Miami, the largest cruise ship port in the world. Accepting the invitation meant, however, that Appleson would be 'out to sea' as far as his regular daily work was concerned - work which recently included voicing and producing product for Publix Supermarkets "Dolphinmania" Campaign in association with Louis Benito Advertising, Tampa, and Publix "Jeep Wrangler Sweepstakes" in Association with West & Company Advertising, Jacksonville. W.B. Doner Advertising, Inc. of Detroit called on Appleson Studios to produce spots for Biggs Department Stores in Ohio. the commercials ran during the Super Bowl in Ohio and featured the voice of the Cincinnati Bengals announcer, Phil Sampe. Appleson also produced a series of spots for Morse Chevrolet of Fort Lauderdale, for Hawthorn Advertising, Inc., with actress Lynn Cameron as talent.
Creative Video of Miami's Barry Sikes was also in the studio to produce a V/O for the Tampa Bay Convention Authority with Pat Appleson as talent. Shirley Attia from IAC Advertising Is producing the weekly Publix Spanish TV V/O's and Radio Spots using the host of the Telemundo Network's "Estrellas Y Estranos", Javier Alberdi. Ms. Attia also has produced a series of Spanish commercials for Jordan Marsh Department Stores.
Norwegian Caribbean Lines, legendary for their floating entertainment programs, asked veteran Air Personality Pat Appleson to perform a "50's and 60's" radio show, which was "broadcast" to all public areas on the ship including the pool deck, sundeck, casino, hallways and even reached each cabin on the closed circuit TV System, which also aired TV Shows from the period. Headlining the cruise were fifties and sixties artists Bobby Rydell, Herb Reed and the Platters, The Diamonds, Wolfman Jack, two Las Vegas Style Revues, four show bands, the comedy team of Tony Marsh and Lou Adams, a Calypso Band, and the 20-piece M.S. Seaward Orchestra, under the direction of Ralph Massetti. In addition, on hand for sports fans were Olympic medalist Gary Tuttle and NFL star Randy Gradishar of the Denver Broncos. To help set the theme for the other headliners, Pat Appleson Studios, Inc. installed a fully modular mobile Radio Studio in the ship's "Cabaret Lounge" On the Promenade Deck. One month prior to the cruise Pat Appleson personally checked the ship for the technical problems usually encountered in a maritime application. With the help of the ship's program director, Jim Lock, Appleson measured the space allotted and assembled a fully functioning studio. The studio was tested and operated on land for a month before being packed into ten road cases for a week at sea. Appleson remarks, "We tried to anticipate any problems in advance and carried plenty of spares, a full case of tools and diagnostic equipment. It's hard to find a Radio Shack between Miami and San Juan!" On the technical side, a partial equipment list included three Matsushita/Technics CD players, two Matsushita/Technics SP-10 Mk-II analog turntable systems, ITC triple deck cart machines, custom 12 channel UREI Stereo on Air Console, Otari MX-55 decks, Shure SM-81 condenser mics, JBL/Cetec monitors and Samson wireless mic systems. Because of possible RFI (Radio Frequency Interference) from such things as the Seawards radar, radio & sat/com systems Appleson Studios chose to run all sources balanced & floating at +8dbu and feeds to the ships network thru a transformer isolated distribution amp. Vibration was encountered only once for five minutes when the MS Seaward
pulled out of St. Thomas, USVI. This was caused by the ships variable pitch propellers changing pitch while under way and turning to Starboard to clear the harbor. All CD players failed as did the analog turntables. "forget the old put a quarter on the head shell trick," Appleson muses, "The tonearms bounced so badly we had to tie them down on their arm rests!". "Lock had warned us about that in advance", Appleson continued, "So for a few minutes we played a 1/4" analog tape prepared for such a problem". "Other than that, we had no breakdowns or down-time and the powerline conditioning equipment we brought did not need to be used to capacity because the Seaward's eight megawatt gen/set was smoother than FP&L".
In addition to oldies music, the headliners on board ship did interviews on radio and the M.S. Seaward's "Sea-TV" In-cabin television System. For programming the cruise in addition to oldies music Appleson dug back in the studios library to find spots from the era. "I found some old ET's, (that's electrical transcriptions to those of you who weren't around to see Elvis on Ed Sullivan), That contained a Bunch of Pepsi Commercials from 1965 with Joanie Sommers singing 'Come Alive You're in the Pepsi Generation', Some 1957 spots for Muntz TV '... with the Giant 17 Inch Screen..'. and my favorite, the commercial for the 1958 Mercury Marauder '.. With the New 460 Horsepower Engine!'".
At the time of the cruise the 'I saw Elvis Presley' thing was just gearing up" Appleson chuckled, "And we thought we'd do our part. on the air I told the listeners that Jerry Lee Lewis is the King and if you thought differently, then come on down to the Cabaret Lounge and tell us what you think. Of course you got a gift from NCL, usually a bottle of Champagne. We received plenty of opinions. On the second day at sea we did pre-produced news bulletins of 'The King' being sighted as our ship departed from the Port of Miami. One day we had a report of Donald Trump's ocean going yacht, 'The Trump Princess', Pulling a balding fat man with a guitar on water skis off the port side of our ship. Then later in the week, sightings of Elvis at the Midnight Italian Buffet in the Seven Seas Restaurant on the main deck." Appleson states, "Of course I knew this was untrue because I had lunch with Elvis and Spider Man last week in Richmond, Virginia!"
According to NCL sources, the ship's guests were extremely pleased and NCL has asked Pat Appleson to do two weeks next year on the SS Norway and the MS Seaward.
For Information Call: Pat Appleson Studios, Inc. 828 465-5500
-[30]-