Pat Appleson Studios has the solution for your next project
The iLink LCD is a two-channel Internet downloadable messaging system
utilizing state-of-the-art MP3 compression to achieve truly stunning near-CD quality audio playback.
Units come with 2GB of flash memory to handle any audio application.
The backlit LCD screen and membrane touch keys control volume and
mode settings as well as allowing local configuration of the unit's IP.
Also included is an internal monitor speaker for checking playback status.
The iLink LCD connects to the Internet through its built-in 10/100 LAN jack or wireless option.
All unit management and audio file downloads are performed by
Pat Appleson Studios remotely, over the Internet using our secure software.
The integrated two-way (push or pull) feature combined with the ability for changes
to be initiated on demand or be scheduled from minutes to weeks
in advance provide unlimited flexibility and convenience.
The iLink LCD provides a solid platform for all applications ranging from simple
message-on-hold with seamless message playback to complex scheduled tasks
requiring background music with fade and message mixing.
The dual independent outputs also make the iLink a "one-box-solution" in multi-zone installations.
Pat Appleson Studios, Inc. is an authorized Nel-Tech Labs Master Distributor.
Nel-Tech Labs, Inc. is a PICA Product Development Brand.clik here for more info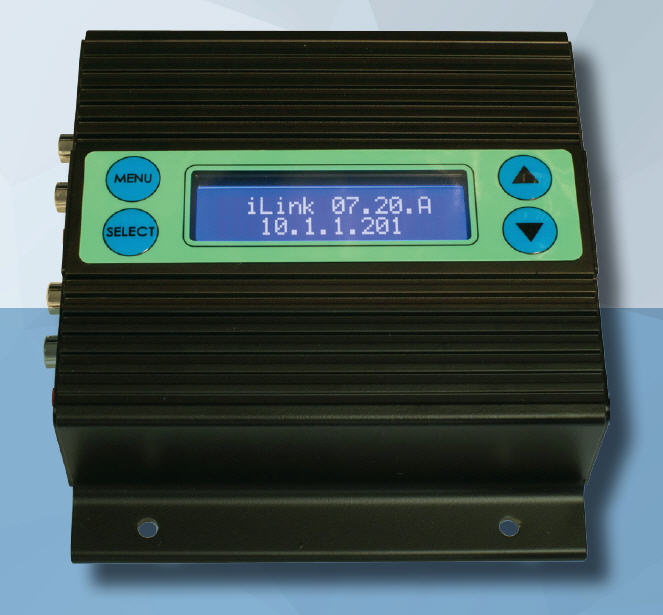 Call for more information: 828-994-4361
If you're an IT director or business entrepreneur you'll love the iLink LCD
Complete unit management via Internet.
Tactile feel membrane overlay keys .
Dealer customizable backlit LCD screen.
Full menu-driven local control.
Playback quality up to 128Kbps.
Fully configurable playback options.
BGM input with adjustable fader and mixer.
Dual independent output channels.
Internal monitor speaker.
5-year parts and labor warranty.
Designed and manufactured in the USA.
Stops end user frustration.
Gives end user peace of mind.
Features:
100% Digital, Solid State, No moving parts
Standard MP3 audio playback with variable compression rates and/or uncompressed Wav.
STOP (Self Test on Power Up) micro processor maintains sound quality.
Zero Gap silence sense. No dead air between end of program and beginning.
Power line failures no problem. Upon return of AC Mains the unit re-boots, then re-loads,
from stored memory, no UPS needed.
Made in USA. Enclosure is fabricated out of steel. Not an imported plastic toy.
Fact: We've installed over 400 units and had only one failure [a direct lightning hit in South Florida].
Fact: After four years as a distributor we received our first tech support call [the unit was un-plugged].