Pat Appleson Studios, Inc.
for Immediate Release........
Appleson goes public!!!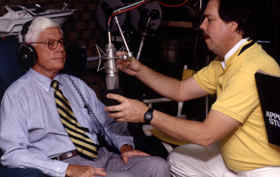 Rep. John D. Anderson & Pat Appleson preparing for NPR remote broadcast
Fort Lauderdale -- Pat Appleson Studios, Inc. came to the rescue of National Public Radio twice last month, making an already busy month more interesting. Thru the use of the studios' low bit rate codecs, running custom software from Telos Systems, Inc. of Cleveland, Ohio & one of four 64 kilobit ISDN dial up data lines leased from Bell South Business Systems the studio supplied feeds to NPR's technical operations center based in Washington, D.C.
"For the first feed they called at 12:30, with little time to spare and asked us to help." Recalls Pat Appleson, Owner/Operator. "It seems they found our name on the INTERNET list of TELOS ZEPHYR® users & their interviewee was only available at 1pm. They wanted us to set up for a remote interview hosted by Weekend Edition's Scott Simon. I wasn't at the studio, I was in my car, twenty minutes away." reports Appleson, who told his Operations Manager, Brenda Mayer, via cell phone, to send their guest over.
Appleson recalls, "when NPR line producer Martha Overland said the guy was coming to the studio from nearby Nova University Law School, I figured they finally ran out of people to second guess the O.J. trial. Imagine my surprise when the subject turned out to be the presidential election and the Nova Law professor, ten term Republican Congressman John B. Anderson of Illinois and former 1980 Independent Presidential Candidate." Congressman Anderson garnered over six percent of the vote.
"So, I'm driving back to the studio thinking that this is going to shoot the afternoon. You know, the interviewee along with a couple of press flacks, media consultant, hair stylist, photographer, secretary/assistant, an intern or two & the cursory under assistant west coast promotion man! Then, minutes after I arrive, a compact car pulls up with ONE guy in it. 'Must be the advance man I thought to myself, all those big time guys have them. The man disarmingly says, 'Hi, I'm John Anderson, can I have some of that coffee? I'm dumbfounded (a condition I'm found in from time to time) and I say to myself, Geez, why didn't we elect HIM President?"
Word of Appleson's good work and more that 25 years of network radio experience got around fast at NPR technical operations center in Washington, D.C. NPR's TALK OF THE NATION producer Wesley Weisberg called next to arrange a live 525 station feed between NPR's host Ray Suarez in Washington, D.C., Congressman Anderson in Appleson's Fort Lauderdale studios, Senator Lowell Wiekert at his home in Connecticut and phone-in callers from all over the nation via incoming 800 lines. Suzanne Mesnick, Technical Director of Talk Of The Nation, says "It was nice to find Pat, you don't have to explain IFB or mix-minus to him, he's already done it a few times before. We've got him in two rolodexes now."
In addition to the above, Appleson continues their 15 year relationship doing complete radio production and TV audio pre-production with Florida based Levitz Furniture Corporation. Also long form CD-ROM production with Microsoft Corporation, TV production work for Boise Cascade Corporation and many other Forbes 400 companies.
-[30]-