Pat Appleson Studios has the solution to your next project.
©2005 Pat Appleson Studios, Inc. All Rights Reserved, Used By Permission.
Susan Egan & the beast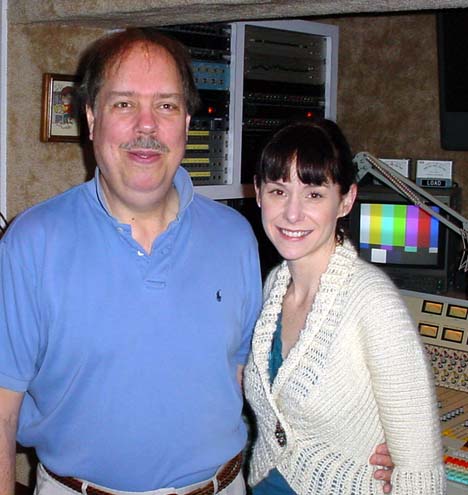 Broadway Actress, Vocalist and Voice Artist Susan Egan
joined us to do a V/O for Kmart's "Easter Best" series of TV spots.
Grey Adveristing, NYC, was on hand at Audio Engine Studios
in New York for the feed. Rex Recker was the editor.
Susan's been keeping busy with two performances with the
Florida Sunshine Pops in Boca Raton. Susan originated the role of Belle,
in Disney's Beauty and the Beast and was nominated
for a Tony Award. She recently starred as Broadway's Millie in
Thoroughly Modern Millie at the Marquis Theatre.
Also, Susan spent a year on Broadway as the
downwardly-mobile Sally Bowles in Studio 54's Cabaret.
For more about Susan goto:www.susanegan.net -- March 2005
Natacha & Boris?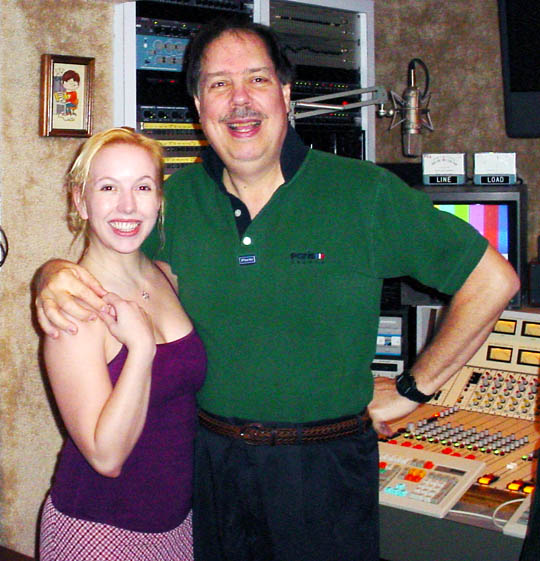 New York Actress and Voice Artist Natacha Price and Pat Appleson
mug for the camera. Natacha was in for Dannon Food's,
Danimals brand "Bouncin' Banana!" children's snack. Natacha is the voice of a very annimated Kangaroo.
Producing for Young & Rubicam, New York was Salima Millott. -- March 2005

"a singer?, no a Soprano"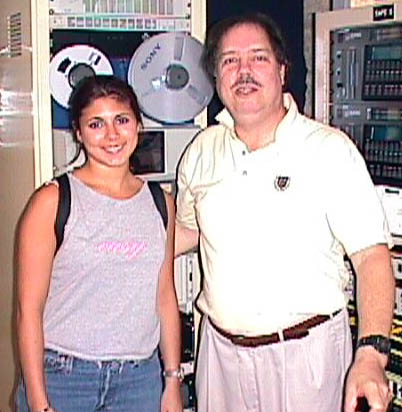 HBO/Soprano Productions had Pat Appleson Studios help with a long distance
ADR (automated dialogue replacement) session. Actress Jamie Lynn Sigler
stopped in to loop a couple of lines for an upcoming >Soprano's episode.
Jamie Lynn plays "Meadow" on the popular HBO series. She spoke her lines in Appleson Studios'
custom, dead quiet announce booth while viewing video workprints of her original
on camera performance. Jamie Lynn's voice and SMPTE time code was sent via
high speed data lines to Sound One> in New York City where the shows
ADR sound editor laid the audio back to
the master print. All of this was done in real time
and took less than 15 minutes. Jamie Lynn was then free
to finish up her soon to be released record album with
South Florida record producer Desmond Child. -- April, 2001