Pat Appleson Studios has the solution to your next project.

"In Search Of"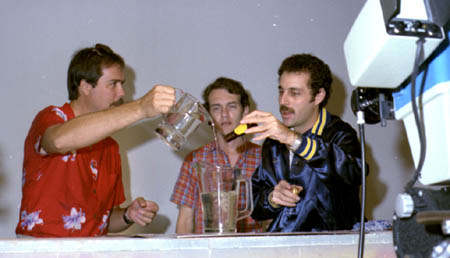 Pat Appleson, Michael Garrett & Rich Rudner go, In Search Of, solutions for your next project.

"Which one holds more?"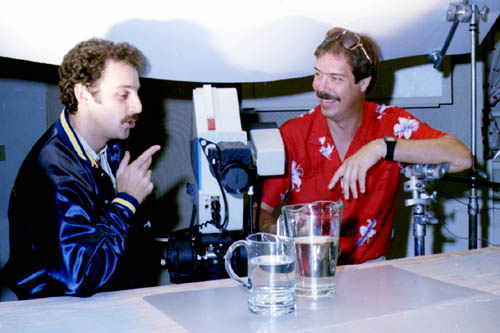 Rich Rudner, Pat Appleson
"Pat, I'm tellin 'ya, this camera's so sensitive you don't have to remove the lens cap!"

"Wear a hat day, in Studio A"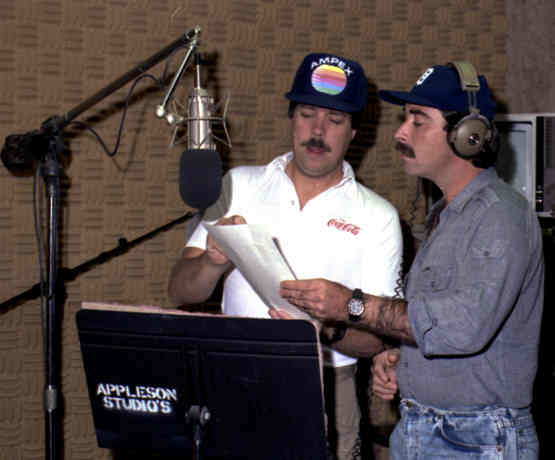 Pat Appleson & Javier Alberti in Studio A -- 1989
Pat Appleson with famous Actor & Novella heart throb, Javier Alberti. "I was the English Radio voice of Publix Supermarkets for nine years and Javier was my Spanish counter part. We'd see each other once a week for the V/O's. Twice a week, if Winn-Dixie lowered Budweiser ten cents a six pack. Publix would match or beat 'em by a couple of pennies and we'd charge 'em for a full re-cut. I love Winn-Dixie!"

"This Old Light"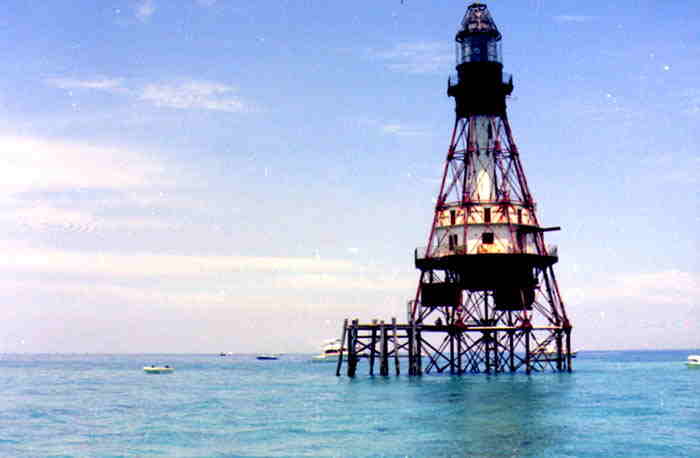 Fowey Rocks Light is six miles off the southern tip of Key Biscayne. This old light marks the start of Hawk Channel down to Key West. It also marks the start of great dive locations. From this point south the water is clear and clean, just like the Bahamas. Its twelve to fifteen feet deep at the light and drops off about 500 yards east to 600 fathoms. Great for SCUBA and snorkeling with schools of colorful fish.

"o.k., I'm ready, where's Jimmy Buffett?"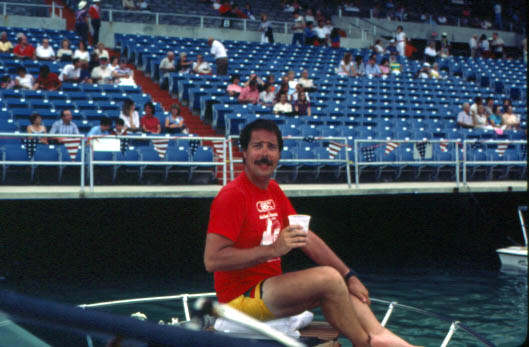 This is the view of Miami Marine Stadium from the water. The stage is a barge that is floated in front of the seats so the performers are floating along with the boats gathered around them. The audience is on dry land. While at WWOK-AM/WIGL-FM Radio, I emceed many a concert from this stage. Including Tammy Wynette, Bobby Goldsboro, Ray Stevens & more. A few years before, when I was covering the 1972 Republican National Convention, it was the same place where Sammy Davis, Jr. hugged President Richard Nixon. That was a big deal at the time. This photo is from 1985 as we wait for a Jimmy Buffett concert to start. This is the one that you see on PBS station's "corporate beg-a-thon nights". All you can see is tight shots of Buffett because someone forgot to hire a lighting director. This was great fun, you could really get a nice view of the stage. But now, with my larger 34 footer, they won't let you get so close because the boat blocks sight lines.

"We can do this in February, can you?"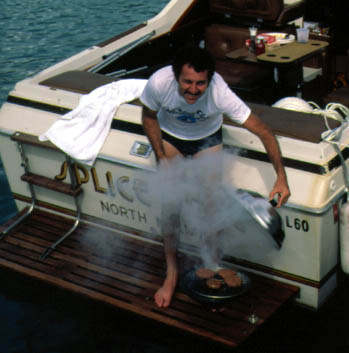 Infomercial Director, Rich Rudner of Rudner/Garrett Communications, Inc. checking a clients "product" to see if it'll really cook food.