Pat Appleson Studios has the solution to your next project.

"a Real Dolly"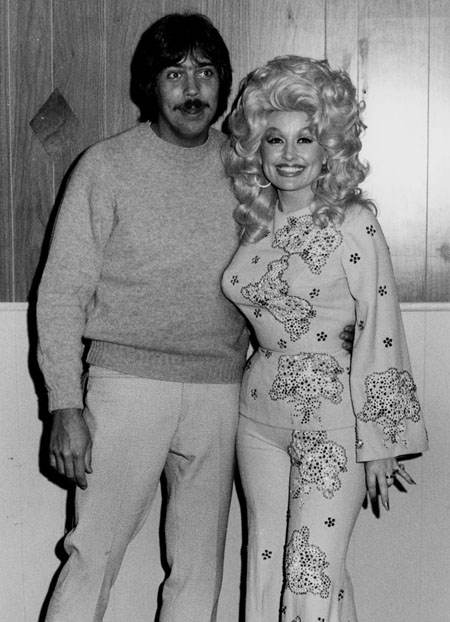 WWOK Radio Country Gentleman Pat Appleson & C&W Artist Dolly Parton, Back stage, Dade Country Youth Fair, Miami, Florida -- 1973
"I can remember only two times hearing music on the radio and literally pulling over to the side of the road to listen without road rumble. The last time was when I first heard Barry Manilow sing Copa. [don't laugh, can you write like that and make the words fit? I can't.] The other time was in early 1967. It was Dolly Parton singing Joshua. Her voice cut thru the static from a Toledo station like a knife. Wow. So now it's 1973 just three months before she signs with a Hollywood agent and crosses over. I'm the emcee at 'da Youth Fair. She's the headliner and pulls me out on stage to sing a duet with her. I guess she got confused and thought I looked like Porter Waggoner.
Pat Appleson afternoon buckaroo WWOK-AM/WIGL-FM Radio, Miami, Florida -- 1973

"Bruce-O-Fonic Bruce"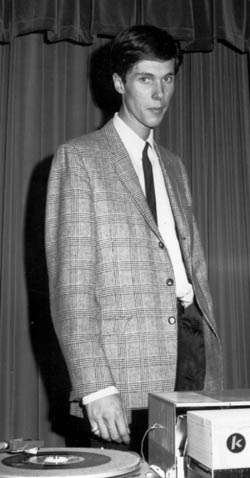 Bruce Hobart spins the discs, Eastern Michigan University, Ypsalanti, Michigan -- 1966
"Yes, we still wore a blazer and tie, just like the guys at WCFL. About 20 minutes after this picture was taken, Bruce decided to become a stand-up comedian.

"Studio B"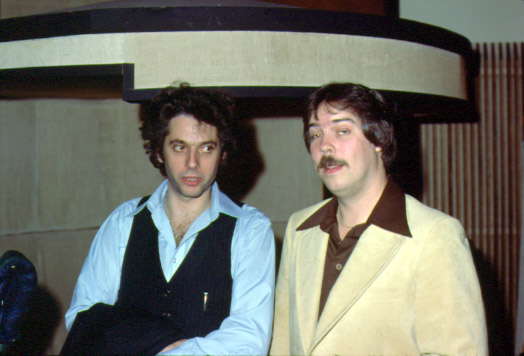 John Storyk and Pat Appleson at Criteria Recording Company, North Miami -- 1978
John is a cool guy and world famous architect specializing in studio acoustics. After an AES meeting my General Contractor and I took John out for a drink at Pappy's Lounge on the Blvd. After about an hour we had complete plans for my new studio, written out on a couple of place mats. I'm not very good with wood, but my GC remembered every word. So we got a wonderful sounding room, that looked like Atlantic Records studio B in New York city, for a couple of beers.

"no, you spin it...."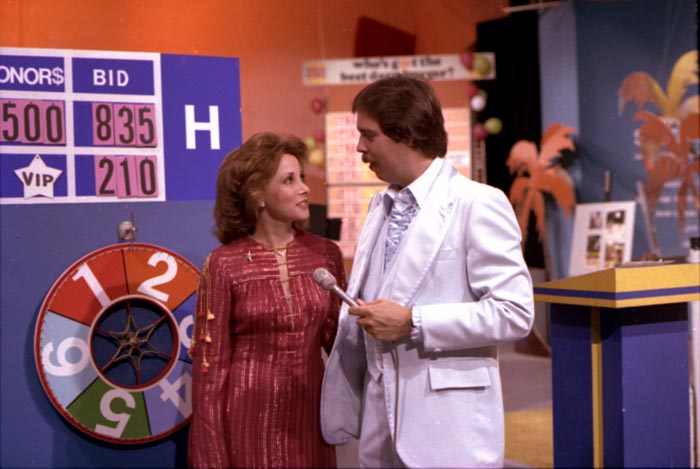 Hard Copy's Jeanne Wolf With Pat Appleson, On Air, WPBT-TV Channel 2 Auction -- 1973
The Channel 2 Auction was fun. I did it for eleven years. The Auction was the only fund raiser for the station and lasted for ten days each year. I'd experiment on camera with different types of delivery. I found that the more excited you got, the more the phones would ring. I remember thinking in 1972 that there had to be a way to commercialize this bidding on merchandise and run it as a regular program. But this was before satellite programming became widely available. Every program manager or GM said either 'No', 'Are you crazy and break programming?' or worse. So I gave up. About the same time a guy in Clearwater, Florida is experimenting taking radio's "trade-e-o" format to TV. His name was Paxon and now its called "The Home Shopping Network". I'll never take no for an answer again.
Pat Appleson -- 1998

"Behind the Bar"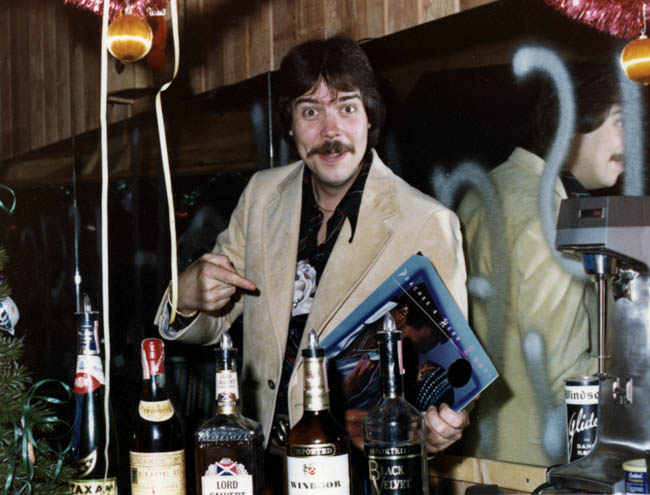 I installed the DeeJay booth behind the bar at Pappy's II disco/lounge in North Miami Beach. This is the view from a bar stool. No, it was called "Ultra-Suede" and tres ultra for 1977. I think I purchased it from the same guy that sold me that fur coat!

"curb feelers...."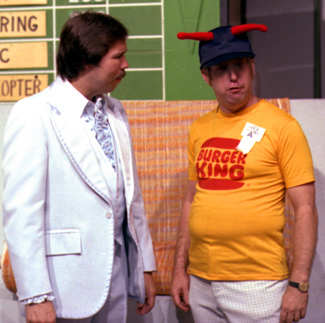 This is at the WPBT-TV Channel 2 Auction in Miami. I think he said his name was George Dooley.