Pat Appleson Studios has the solution to your next project.

"P. A. M. S. -- Pams of Dallas, Texas"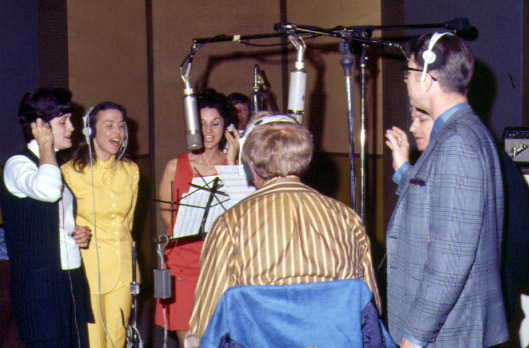 L to R: Libba Weeks, Mary Jo Grogren, Jackie Dixson, Jim Clancy, Marv Shaw, Billy Ainsworth. Back to camera, unidentified. This is the world famous Pams Singers, Dallas, 1970
At WTRX in Flint, we had some of the goofiest sounding jingles on earth. So when the owners decided to get a new package, Pams was the only professional choice and I was elected to go to Dallas and "produce" the jingles. To call me a jingle producer at the time, was just slightly over doing it. As you know these packages had nifty names and were sold across the country with market exclusivity. You could always hear the same package sung with different call letters and frequency when taking a trip and landing in a different city. So, I show up and sit there for three days "producing". Really this was just a spiff to make the sale. This group sang jingles 365 days a year, they didn't need me for anything, they could do it in their sleep! As the session was finishing up on the third day, Jackie Dixson says, 'you were a real slave driver'. Well I was quite taken aback. But on further questioning, it was a back handed complement. Apparently the PD's and jocks sent by ALL the other stations were of the Wildman variety. Away from home in Big D and on an expense account. They'd party all night and be so hung over in the morning they wouldn't show up at the studio till it was time to pickup the mix. Well, I didn't know. I showed up a nine in the morning with the engineers and would sit in the control room till the singers took a break, had lunch, or went home for the day. They weren't used to that. And I found out later, that on the first day, they were a little unnerved by having a guy that could read the score sitting in the control room watching them! Well I loved watching them. They went thru all the motions with the professionalism of a well-oiled machine. They were the BEST.
Pat Appleson, Dallas, Texas -- April, 1970

"hey, isn't that four track?"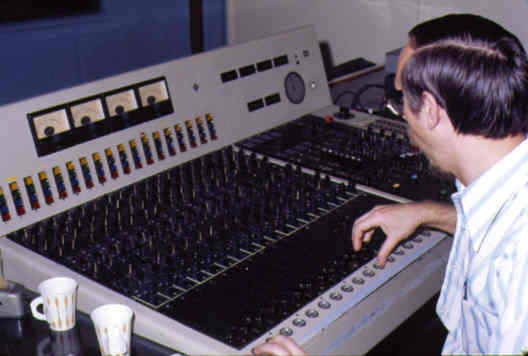 PAMS recording engineer, Bruce Collier at the console
For a console not located in NY or LA, this had a LOT of knobs on it. As I recall it was a Telefunken with four busses. At the time these were branded with the Neumann Logo & sold in the USA by Gotham Audio. Lots of EQ was available and Bruce the Engineer told me that he usually put just two or three db at 3.6k on the vocal mikes. I think the reverb was an EMT 140 plate, it sounded full, sweet. The round buttons on the bottom were PFL's that he used as solo's on the vocals. In the photo above he's checking three vocal mikes at once to hear if they all start singing at the same time. The full chain was, a tube Neumann U-47 on the girls & a tube Telefunken U-47 on the guys. I don't know if that was for any special sonic reason or they just happened to have one of each. Then for the bass singer [Jim Clancy] in the corner of the room, a RCA 77-DX in mint condition. Man this guy had a deep voice! All mikes ran directly into the console an hit a transformer and then transistor electronics. [I may be incorrect about the solid state, but I don't recall the console heating up.] Then the signal went to the tape deck, and on repro, back thru the console into McIntosh Laboratories MC-275's. These of course we huge 75 Watt amps that drove four Altec Model 604 coaxial drivers in stock enclosures above the studio window and approx. five feet from your ears. Warm full sound. No problem!

"return to zero? hey, auto this!"
Bruce Collier looks for RTZ
The tape deck was a very modified Ampex 300 transport, full manual, no return to zero, no auto head lifters & certainly no auto-locator. So the thing had to be within arms reach. Everytime the singers would goof or just wanna do it better, every time a rewind to stack a vocal and just everytime to get it to play or record, you had to lean over and grab it. No remote control. So this is the position I found the Engineer in most of the time during the session. The Ampex electronics were all out of mono Ampex 350's and I assume all tubes. I just can't remember, and I've used those electronic modules alot, but long ago. If they were transistor, then the mikes & console were really VERY smooth. The sound that came out of the studio is some of the smoothest I've ever heard. Digital just doesn't compare. The normal eight track deck is on one inch tape. Well this was one inch tape but they had Lipps, Inc. fabricate ten track heads. At 30ips with a little tweaking you had great S/R, not too bad of a LF head bump and TWO EXTRA tracks to play with. I believe they made a sub-master of the instrumental mix-minus the vocals. Then for every job it would give them a full eight tracks to stack and mix vocals. I don't think they ever comped a vocal they'd usually get it perfect the first pass. If they didn't like it for lack of energy or whatever they'd just walk on it. They could do vary speed on their Ampex too. They had a 120 watt tube Bogen P.A. amp fed from a tunable oscillator as their MDA [motor drive amplifier] to frequency vary the Capstan motor.
Pat Appleson, Producer Dallas, Texas -- 1970

"Ten tracks, no waiting"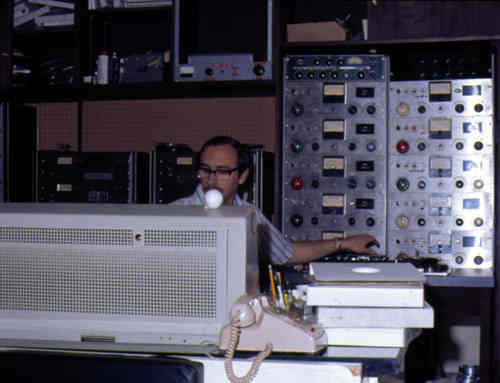 View from studio into control room, PAMS of Dallas -- 1970
This gives you a pretty good view of the tape deck. About the size of a refrigerator.
Pat Appleson -- April, 1970

"Seven PR-10's....."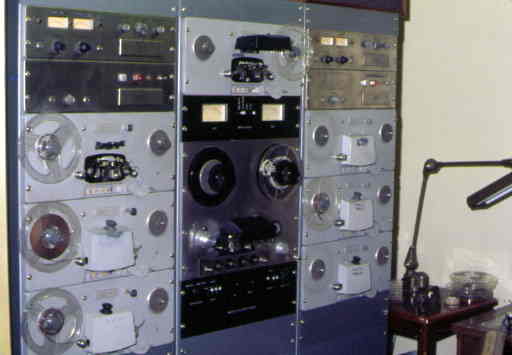 This it the dubbing studio at PAMS, a big Ampex Model 350 feeding seven Ampex Model PR-10 transports. Yes, transports, not decks. The amplifier section was at the top of the rack and had enough kick to drive at least four transports. I didn't see any DA's either. I've always wondered what they did with them. I guess they would make a copy or two of your jingle master so when you got it back home and the PD wrecked it on the first pass, you'd have a couple of safeties.
Pat Appleson, -- October, 1969

"Mr. Bassman"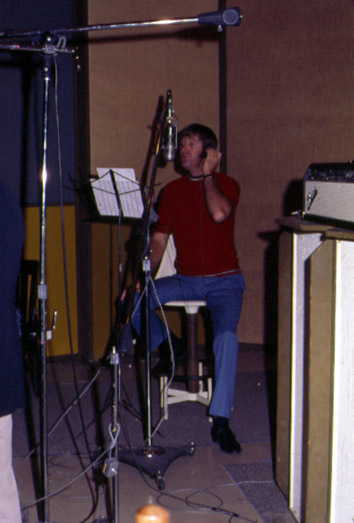 This is Jim Clancy, he had a voice deeper than deep!
PAMS, Dallas, Texas -- 1970