Pat Appleson Studios has the solution to your next project.

"an Old Beaver......"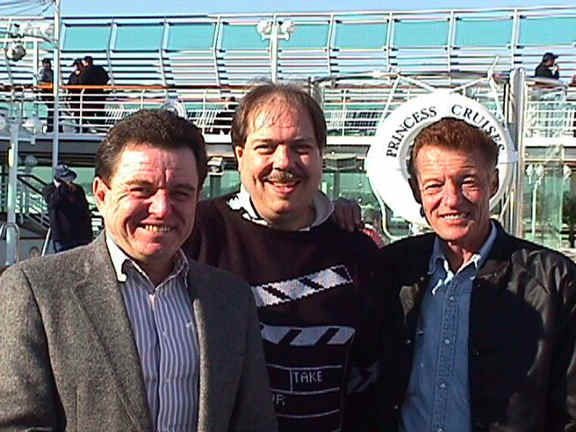 We did uplink audio for P&O Lines, Ltd. Newest Cruise ship, the Sea Princess, based out of Port Everglades [Fort Lauderdale]. The occasion was her maiden voyage. This beautiful ship is over 950 feet long and the amenities are unbelievable. The cruise line flew in correspondents from stations around the country and supplied up-links for live feeds back home to the local "Goodmorning LA" etc. There was a production crew of around 100 people, with four satellite trucks going all the time. In addition I counted 28 stand-alone betacam crews and reporters. Radio wasn't left out either. Each day 12 radio stations did their morning shows from a line of 12 tables, each with 3 mics, headphone amps, mixers and 12 Telos Zephyr low bit rate codecs driving ISDN lines. The theme of the first cruise was "Three's" Like in three new ships etc. So original cast members were hired. My Three Sons with Don Grady etc. The Pointer Sisters, The Shirelles and "Leave it to Beaver". Jerry Mather & Ken Osmond showed but "Wally" [Tony Dow] was busy so Jerry asked me to fill in for this photo opp. I figure, if you've had a couple of drinks you might not notice.
Pat Appleson, Port Everglades, Florida -- December 8, 1998

"It's cold in Fort Lauderdale...."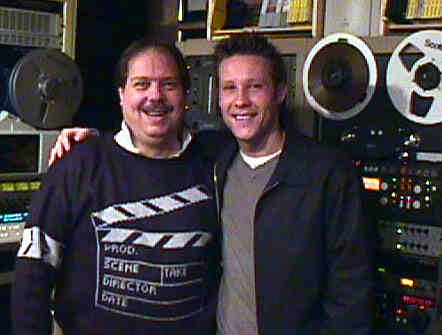 Anytime you see me in this sweater, it's very cold in Fort Lauderdale. In the Beaver photo it was 52 ºF and in this shot, the coldest day of the year, 46ºF. Even Mike Rosenbaum is in a jacket. Mike plays Lex Luthor in Small Ville, now playing on HD Net. And Co-Stars with Christina Ricci in Cursed. He was in for a Proctor & Gamble V/O live to NYC. -- Jan 1999