Pat Appleson Studios has the solution to your next project.

"Sync amps??? Nah, we don't need 'em...."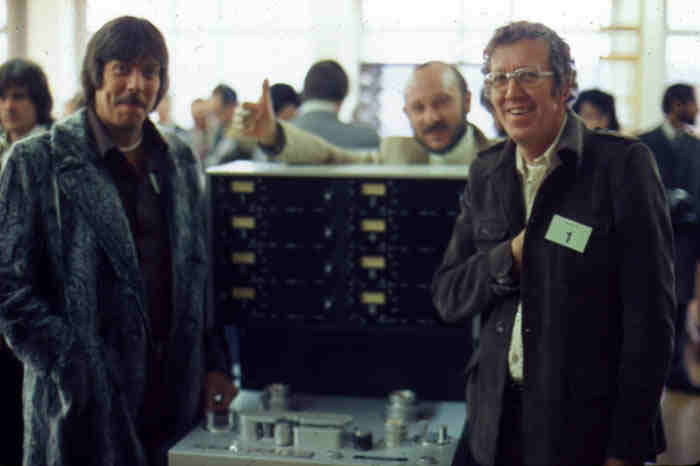 Left to right: Pat Appleson, Lutz Meyer, J.G. "Jeep" Harned visit the Studer plant. Zurich, Switzerland -- 1976
The Audio Engineering Society's European convention was held in Zurich in '76. I flew over with my good friend Lutz Meyer, who at the time was the International Sales Manager for MCI. With us was MCI founder & CEO Jeep Harned. The AES had arranged side trips around the city. In addition to Anita Kerr's studio, Mountain, where rock group Queen recorded was a excursion to the Studer tape deck plant. I of coarse owned MCI and Otari equipment. So we had to check this place out. The three of us weren't alone, we were joined by 50 Japanese conventioneers all with big Nikons. Heir Studer saw to it that we got the royal treatment, right down to attending a cocktail party to celebrate his friend George Neumann's winning the AES Silver Medal Lifetime Achievement Award. Most people don't realize that in addition to pioneering the world renown Neumann Microphone line, he also invented the NiCad battery. I was pleased to chat with him for a few minutes. Back at the factory we saw consoles and tape recorders being assembled. No one was allowed to see their vacumn sputtering laboratory used in the manufacture of Studer tape heads. But we did get to see most everything else. When we got to the machine shop and metal fabricating areas I was surprised to see rows of NC machine tools, all with Bridgeport Lathe, USA and Cincinnati Milicron, USA printed on them. So much for "Swiss Engineering".
It is with great sadness that I learned of Jeep Harned's passing on Wednesday, March 12, 2003. He died of pneumonia, which was a complication from recent hip replacement surgeries. Jeep was the Henry Ford of the tape deck and recording console business. He gave the industry a "wake up call" by manufacturing superior equipment at reasonable prices. Jeep was always there for me to answer questions and for support. I'm proud to call him a friend and I will miss him. -- Patrick G. Appleson

"A funny guy...."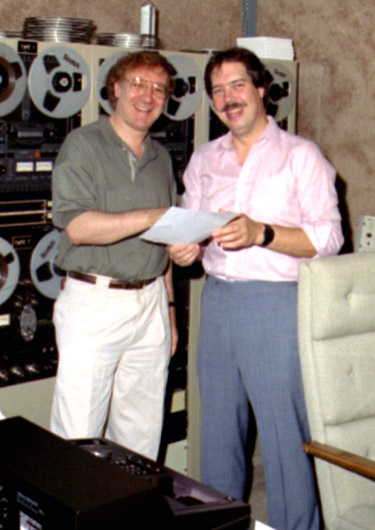 Actor/Comedian Steve Landisburg & Pat Appleson reviewing an old Barney Miller Script, Miami, Florida -- 1988

"a rummy, a crummy & a elf?"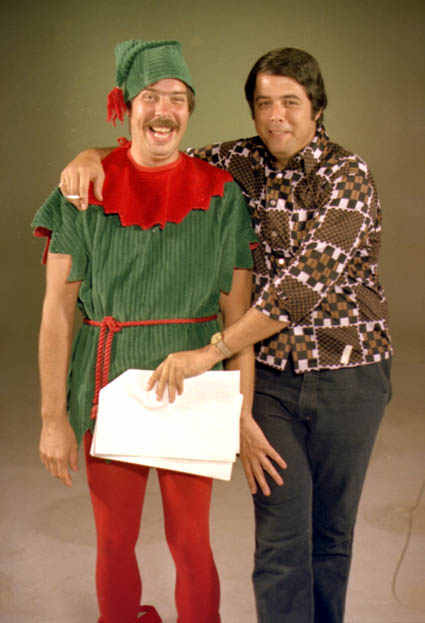 Pat Appleson & Director Errol Falcon of Falcon Productions, Inc. at Video Tape Associates old studio, Fort Lauderdale, Florida -- 1980
As I recall, the late Roby Younge was supposed to be the Elf in a Christmas spot for Levitz Furniture. But he either didn't show up or couldn't fit into the Elves suit. So I was elected. The folks at Levitz thought I was so good, I got "promoted" to 'Talking Box" for Lea Furniture. Roby showed up for that one. He got to wear a suit and tie, I got brown tights and box make-up. There's a picture here somewhere to prove it.

"No, not more Auction...."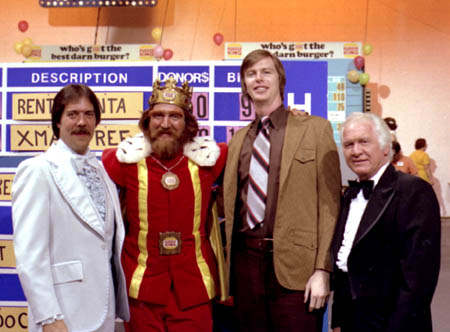 Left to Right: WWOK-AM Air Personality Pat Appleson, The Burger King, WQAM-AM Radio Jock Dave Burgess, WGBS-AM Newsman Ken Taylor take over the WPBT-TV Channel 2 Auction, Miami -- 1974

"Pat, you need a moustache..."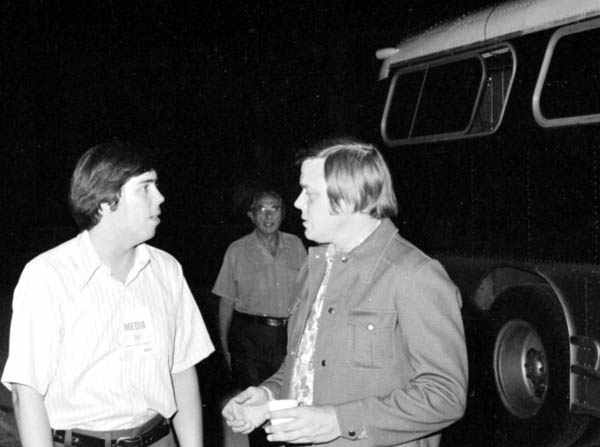 Left to Right: WWOK-AM Radio Air Personality Pat Appleson and Country legend Tom T. Hall, Miami Beach Florida -- 1972
The DNC hired Tom T. Hall and Tammy Wynette & George Jones to do a couple of open air concerts in Flamingo Park on South Beach. This was in the middle of the 1972 Democratic National Convention being held about three blocks away. This photo was right after the concert. Tom and I went to a bar, had a drink and I left early, about one am. Before he left the bar he wrote his next big hit Old Dogs, Children & Watermelon Wine. One of the lines in the lyric is "they were showing Ironsides on TV". That's true, WCKT-TV Channel 7 rolled re-runs at one am. right after The Carson Show. This was the last day I shaved my upper lip. It took about four years to grow hair.

"Louisiana woman...."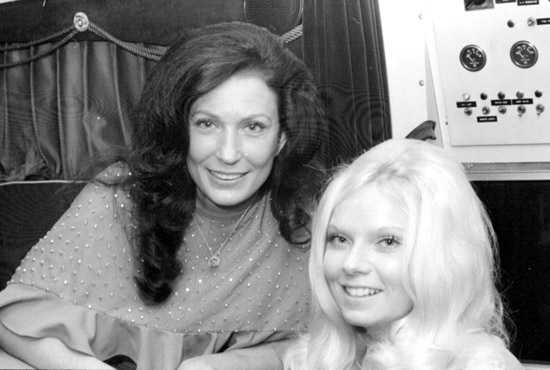 Country Legend Loretta Lynn & PBS Producer/Director Sue Wainwright, backstage in Ms. Lynn's bus, Miami Beach Convention Center -- 1973