Pat Appleson Studios has the solution to your next project.

"Boxed in......"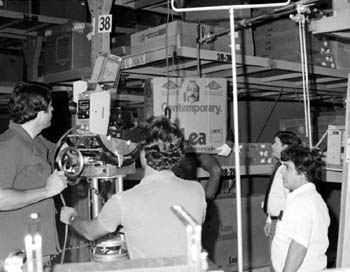 Director Erroll Falcon of Falcon Productions behind the camera directing Pat Appleson as "Talking Box". Levitz Furniture, Miami -- 1980

"A funny guy...."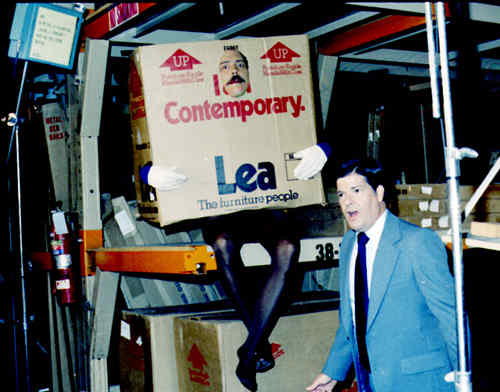 Another shot from the same shoot. Roby Young with his hair combed and Pat Appleson in tights. Notice the solid state TeleprompR® in the upper left hand corner. Levitz Furniture Warehouse, Miami -- 1980

"Better times......."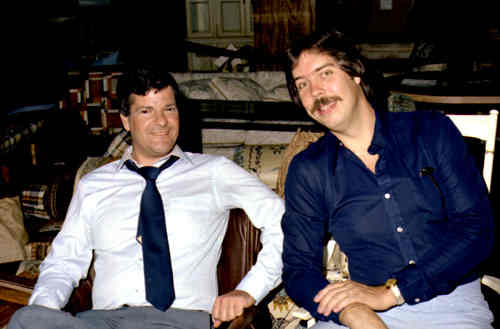 Former WABC-AM legend and the best straight announcer I've ever heard, the late Roby Young and I (Pat Appleson) relaxing between takes at a Levitz Furniture shoot. Miami, Florida -- 1980

"You'll love it at......"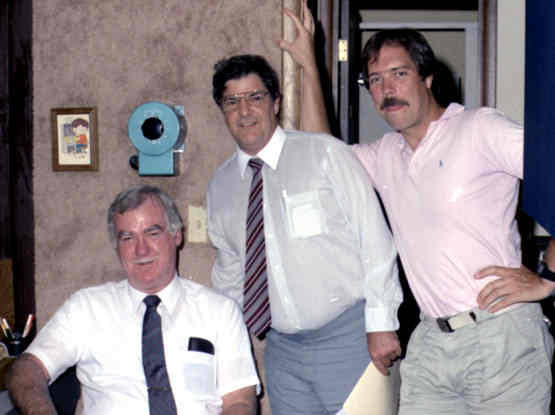 Left to Right: Vice President & part owner of Levitz Furniture, Mr. Robert Gorden, the late Roby Young & studio owner Patrick G. Appleson. This photo snapped just before they left for the back nine at Broken Sound Country Club -- 1981

"Ageless Boppers"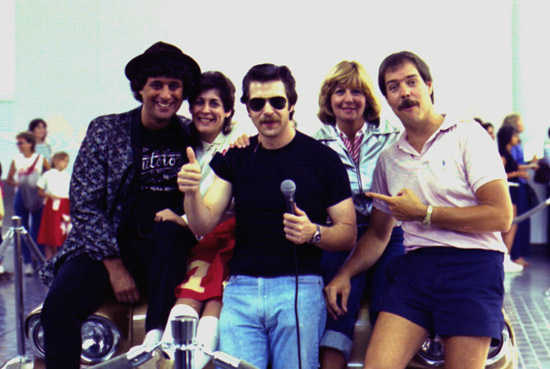 Left to Right: WLVE-FM weekend jock Stewart Grant, WMXJ-FM "GoodTime Oldies" Jockette, Mindy Lange, WVCG-AM jock, Jay Daniels, WCIX-TV Channel 6 Sales Babe, Lori Baniken & indie voice over guy, Pat "The Fratt" Appleson. All appearing at some kind of sock hop at the Miami International Mall -- 1982

"Cruisin' Woodward......"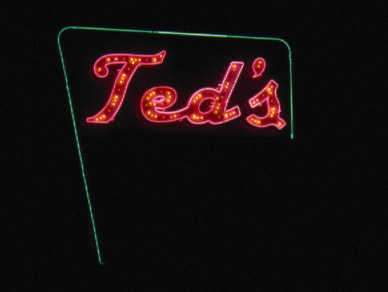 Ted's Drive-In giant animated sign towers high above Woodward Avenue, casting that 'ole 60 Hertz neon glow that could be seen for miles. This is how it looked Friday Night, August 14, 1964.
Ted's is the "end of the line" of drive-in restaurants on Detroit's far north side. In the movie American Graffiti®, Richie & Milner would cruise to Mel's Drive-In. As teenager's Bruce & I would cruise up and down Woodward Avenue lookin' for chicks while keeping and eye out for the Phay-roe's and finally landing at Ted's for the world famous Five by Five Hamburger. Ted's billed itself as the worlds largest drive-in. It was large but I think The Varsity in Atlanta had it beat by a couple of spaces. Either way, I'm still waiting for that blond in the T-bird to return..... 'ya know I only saw her once. --- Pat Appleson -- 1998