Pat Appleson Studios has the solution to your next project.

"Hoof in mouth....."
Local Lincoln/Mercury Dealer and TV Personality Joel Hamilton and TV Director Pat Appleson, Miami -- 1976
Joel is Paul Revere for a couple of spots celebrating the 200 year centennial of the USA. The rented horse was great, always hit his mark, Joel on the other hand.... we'll, we dubbed him.

"A funny guy...."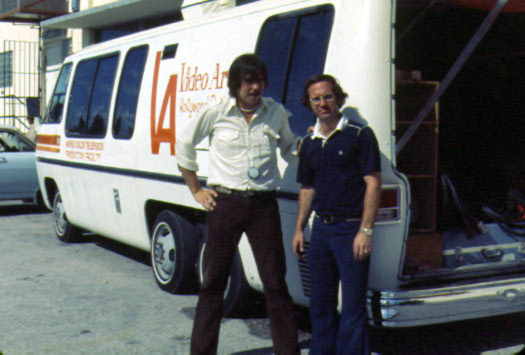 TV Director Pat Appleson and "Dangerous Dave" Cooper, owner of Video Arts Productions, Las Vegas. Dave is cool, that's his small truck in the background. He needed it to haul a "small" video tape recorder out to location recording. He's got a RCA TR-60 in there. Miami -- 1976

"Leisure suits...Print shirts......Way Cool.."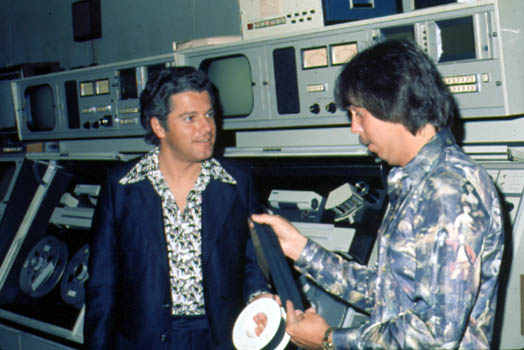 Joel Hamilton & Pat Appleson look for sprocket holes. Miami -- 1977

"Not an Ampex in sight......"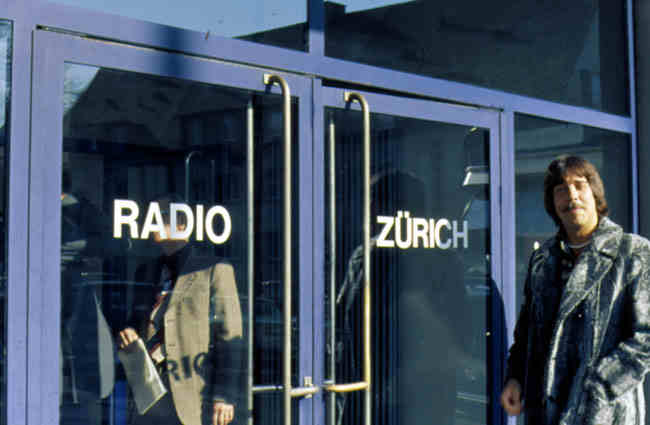 Taking time out from the AES European convention to tour Radio Zurich's network studios. Regensdorf, Switzerland -- 1976

"OK Country....."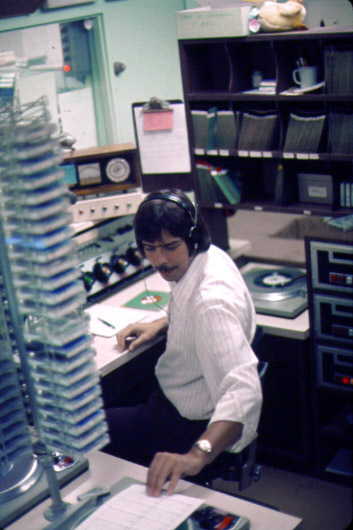 Control room of Miami's top Country station WWOK-AM & WIGL-FM. The usual suspects: Three Gates CB-77 Turntables with nasty Gray Research five pound tonearms, three Gates/ATC cart machines, a very used ten channel Gates Diplomat Console, EV Model 666 Mic and a "weather station" that didn't work. All in glorious Mono. Country Gentleman Pat Appleson riding gain while sporting a natty set of Clevite/Brush headphones & faux Rolex watch.. Miami, Florida -- 1972

"The Mean man......"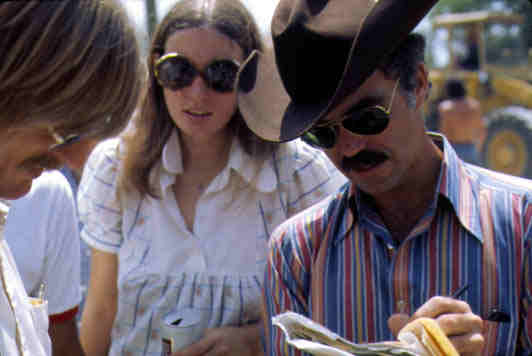 WWOK-AM's Country Gentleman George Means signs autographs, 60 miles west of Miami somewhere in the Everglades at the Wild Hog Barbecue. George wasn't mean at all, in fact he's one of the nicer guys I've ever met. The listeners just loved his morning show.
Pat Appleson, Miami, Florida -- 1974