Pat Appleson Studios has the solution to your next project.

WTRX The Home of the Jones Boys®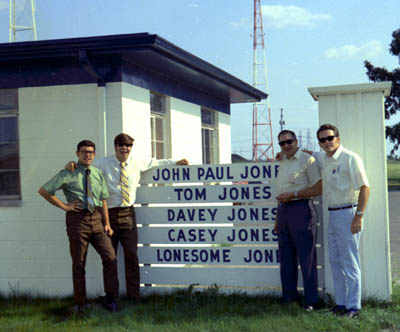 Pictured L to R: Mike Gaylord, Pat Appleson, Dick Crowley & Dan Clemons
"The guy that owned the station was a wonderful promoter and creator of the worlds greatest radio rep firm, Robert E. Eastman & Company of New York City. But sometimes you don't win 'em all. Case in point, The Home of the Jones Boys. Bob Sr. decided that everyone on the air would be named Jones. The Mills Brothers had a song in the early fifties called 'The whole towns talking about the Jones Boy', in alot of our jingles you'd hear that sung before the announcer would give the call letters. So you had John Paul Jones, Captain of the Morning Fleet; Tom Jones, The Ladies Man; Davey Jones & Music From Davey Jones' Locker; Casey Jones & A Train Load of Music; Lonesome Jones (the all night man) & Sherlock Jones (weekends). It didn't take long for the listeners to catch on and start calling the station asking for us by our real names. I guess they thought it was way cool to know the true identity of their favorite jock. The Jones thing went on for a good three years before the management finally gave up and everyone used their real names. Or at least an Air Name that didn't end with Jones"
Pat Appleson, aka Casey Jones & A Train Load of Music, WTRX-AM -- Fall, 1967

The Bear facts about Radio Promotion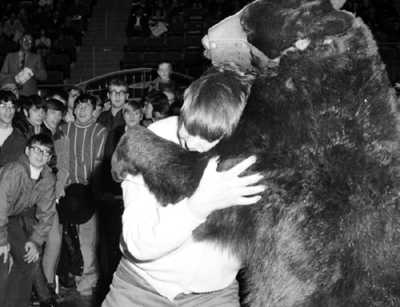 "Sometimes you'll do almost anything for ratings, so when a guy with a trained bear came thru Flint, Michigan, I was elected. All I remember about it was they both had bad breath and the bear was hard as a rock. You couldn't move him unless he decided he wanted to be moved. Mr. Bear (I forget his name) went three for three and got a bottle of soda pop. I got a few pulled muscles and booed by the crowd!"
Pat Appleson, Boss Jock, WTRX-AM -- 1968

WTRX-AM Master Control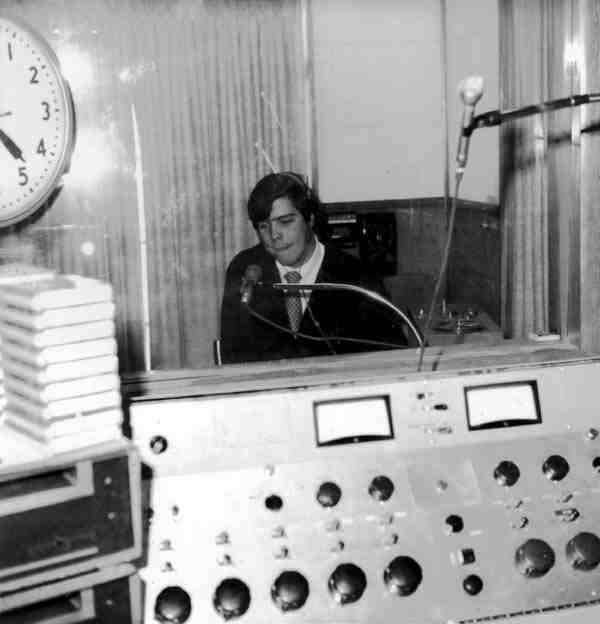 View of Newsroom from Master Control with WTRX Afternoon Newsman Pat Appleson.
"This was a full union shop, so you couldn't touch the board or records etc. The engineers would run this beat up RCA BC-7 mono console and you, as Talent, would have a Mic button, a intercom button and a old door bell button that when pushed would light up a 150 Watt Flood in the engineers eyes & a buzzer went off under the console. This was his cue signal. When you wanted him to start the next record, so you could talk over it, just hit the button. The problem was if the guy had a hang over or just didn't like you, he'd be a little slow. That of course would make you sound stupid on the air. I loved it. I used it as a tool to better my ad-libbing. I'd just lay on the button and calmly chat away. It didn't matter to me if the record started three seconds from when I pushed the button or three minutes, I'd just keep going until I could talk it up. After a while they gave up. I was great fun! Yes we all wore ties and white shirts. After all it was RADIO BROADCASTING."
Pat Appleson, WTRX-AM -- Fall, 1967

Three Former Jones Boys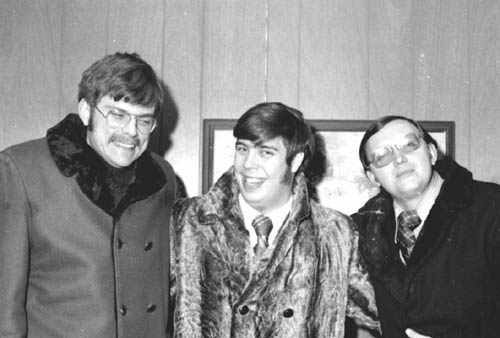 "On the left is Mike Ryan, what ever happened to him? He was a great guy! On the right is Nick Arama who did middays. Nick moved on to the Motor City and WOMC-FM Radio and did quite well. At the time this photo was taken Nick's other claim to fame was that his brother was the bass guitar player with rock recording artist Ted Nugent & The Amboy Dukes. I don't remember what the occasion was for this picture. But I do wonder what I was thinking when I bought that coat".
Pat Appleson, Air Personality WTRX-AM --Winter, 1968