Pat Appleson Studios has the solution to your next project.

"Don't call him Rickey"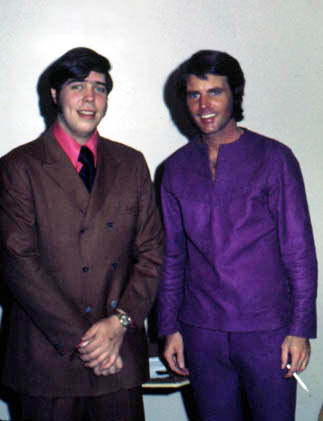 Pat Appleson Emcees Rick Nelson & Stone Canyon Band appearance downtown Flint
Nobody ever comes to Flint. We were always envious of the big Detroit stations because when a star came to town the promoter always brought them by to say hello. I worked at 'Trix for four years and the only Star I ever met was Rick Nelson, who at the time was reviving his musical career by turning country and writing songs. He went on to commercial success and critical acclaim for his albums and songs he penned like "Garden Party". This appearance, by the way, was two weeks before he was booed off the stage at a Madison Square Garden oldies concert. Music trivia buffs know Garden Party was written about that incident. Nelson himself? One of the nicer entertainers I've ever met.
Pat Appleson, Air Personality, WTRX Radio, Flint, Michigan -- 1970

"You in a heap 'o trouble boy"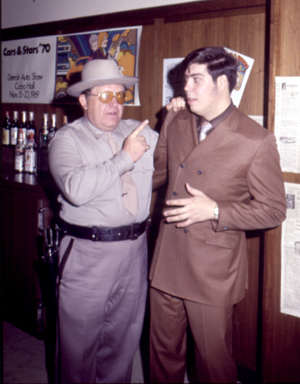 Actor Joe Higgins reading Pat Appleson 'his rights'. Detroit Auto Show, Cobo Hall, 1969
Nobody ever came to Flint, but we did get invited to PR events. Like press night at the Detroit Auto Show. Dodge had great success with a TV spot, that showed a caricature of a southern cop. His tag line was, 'you in a heap 'o trouble boy'. They had him make an appearance at the Dodge display and sign autographs. Today you can still catch Joe Higgins on TV as the bartender in re-runs of The Rifleman starring Chuck Conners.
Pat Appleson, -- October, 1969

"It's just lemonade......"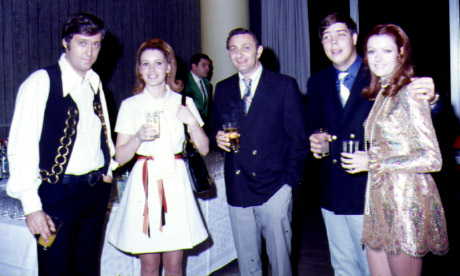 Jack Jones was the headliner at the Detroit Auto Show and had this bored look on his face thru-out the press party. I can't say I blame him, he's probably done a thousand or more. This was about six years before he became a house hold word by singing the Theme from The Love Boat. He didn't come to Flint either. I can't remember her name, but on Jack's left is Fawn somebody, a New York actress. Her big deal at the time was in a deodorant commercial where Bill Fiore opens the medicine cabinet in a thin walled apartment to find 'hi guy' on the other side. In the reverse shot she's Bill's wife. BUT WAIT THERE'S MORE! Next to her is Bob Beasley aka Bob Lawrence. Bob was still at WPON in Pontiac at this time. About a month later moved on to WTMJ AM/FM/TV in Milwaukee, used his real name and became famous. Bob was a very funny guy. There was a story told at WPON about him hating hospitals. It seems his wife checked him into the hospital with a very bad cold, perhaps even pneumonia. That afternoon he escaped, walked down the street to a phone booth where he called the hospital to 'check up ' on his brother Bob. They told him Bob was on the critical list. And the woman on the far right was Oldsmobile's "Miss Bucket Seat" or something.
Pat Appleson, -- October, 1969

"Here come 'dah judge"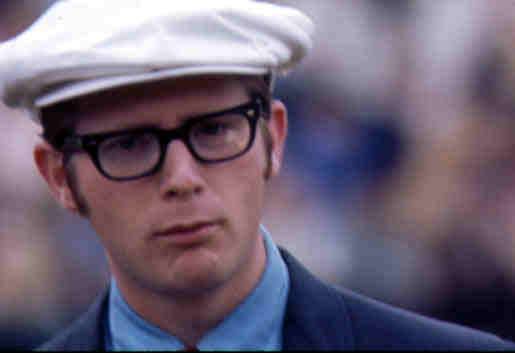 Here's the only picture I can find of PD that hired me at WTRX in Flint. Rick Johnson. It's too bad he didn't stay longer, I would have liked to get to know him better. This picture was taken thru a 400mm lens at the Henry Ford Museum's "Old Car Festival" in Dearborn. The white snap brimmed hat signifies that you are a Judge for the event. A high muckety-Muck.
Pat Appleson, Henry Ford Museum & Greenfield Village, Dearborn, Michigan -- Fall, 1967