Pat Appleson Studios has the solution to your next project.

"Hizz Honor"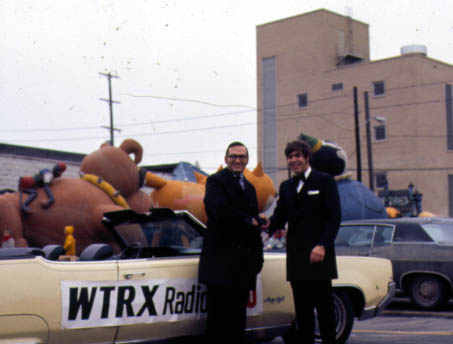 Flint Mayor Frances Limmer & Pat Appleson Thanksgiving Day 1969
The Thanksgiving Day Parade in Flint, Michigan was a big deal, everyone wanted to get involved. They had a deal with Macy's in New York to get last years inflatable floats and haul 'em to Flint. The WTRX 'Jones Boy's' had their own float. We'd stand up there in tux's and throw candy to the crowd. It was great fun. Just like in the movie Roger & Me except by the time I got there the floats were starting to spring leaks. 'Look out! Here comes a giant pink elephant'. Thats my new '69 Olds convert, no air conditioning installed. Didn't matter in Michigan, it was a balmy 28º.

"may I borrow your Grey Poupon?"
Dan Clemons dinning alone in the lobby of WTRX -- 1970
Boy, I should of listened to this guy. Dan was one of the nicest people you'd ever want to meet. Friendly, likeable. He also was a consummate professional with a mellifluous voice. We all poked fun at him 'cause he was cheap. I remember I just couldn't get over the fact that he purchased a car with a stick shift. On the column no less and a six with a two barrel. He'd say, 'the automatic transmission eats up 40 horsepower, if you buy a manual transmission you'll save money on gas'. Dan's right of coarse, but gas was thirty three cents a gallon. So what did 'ole Dan do with all his money? Mutual Funds. [cut to plastics scene in The Graduate.] Really? I said. 'What's that? And he'd tell you, with the zeal of a southern preacher, till your eyes glazed over. Now I haven't seen Mr. Clemons in more than 28 years, but to the best of my knowledge he started investing every extra penny he earned in mutual funds about three years before I met him. I remember him talking about AMF and Fuqua Industries and I'm sure he got in on the ground floor in '87 with Microsoft. So today I'm certain this guy has moved from the 'cheap skate' category to the 'well to do businessman' label. Good for you Dan!

"where's the snake?"
Mr. Vincent Furneir aka Alice Cooper performs at Mount Holly -- 1970
When Johnny Irons was on the air in Flint at WTAC, he'd hire really good, up and coming groups to perform at his summer dances at Mount Holly. Many of these groups would go on to sign with the majors. Some had just been signed and hadn't had a hit record yet, so you could still afford to hire them. Johnny had lots of name groups out there in the summertime. Bob Seger was a regular, Ides of March, Savage Grace, Ted Nugent & the Amboy Dukes, Alice Cooper, Chuck Berry and more.

"another ballad"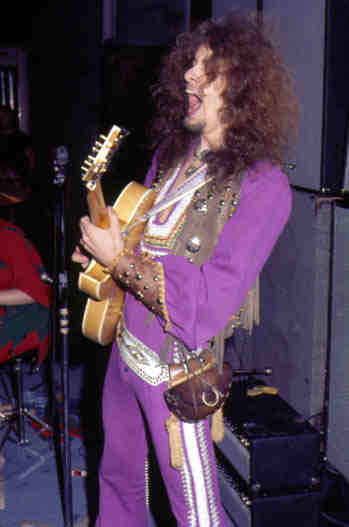 Amboy Dukes lead singer Ted Nugent -- Flint, Michigan -- 1970
Now we know what happened to Porter Wagoner's old suits. At the time of this writing, Ted Nugent was the owner of a Detroit FM Radio station. Whadda' think he keeps in that pouch?

"The songwriters best friend....."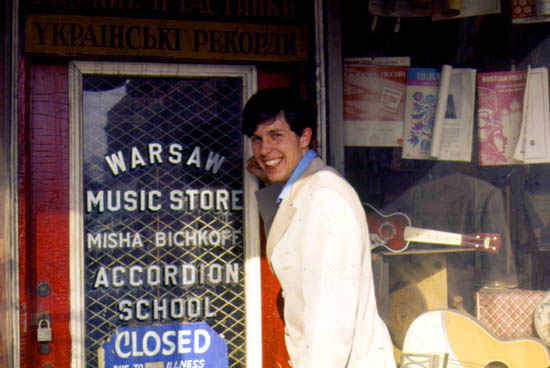 Bruce Hobart, Detroit, Michigan -- 1969
Bruce & I have been friends since kindergarten. We were shooting some publicity shots for Bruce's latest endeavor at the time, Stand Up Comedian. He did this for about three years, from '66 to '69. He worked alot of the scummy Detroit clubs. He wasn't too bad, actually. But it didn't matter, we were all getting drafted anyway. When LBJ took over, you were 1-A, no more student deferments. Bruce later went to work for ASCAP, The American Society of Composers, Authors & Publishers. He stayed at it for over 25 years. He was the front line collection dept. for anyplace music was played. You need a license for "Public Performance", if you play disco or have live bands in your bar or nightclub. If you're not licensed for a nominal fee, you're breaking a federal law. On occasion I would join him and we'd visit a bar or lounge that didn't have a license to verify an ASCAP tune was actually performed on the premises. We would sit up at the bar, order a couple of cokes and write song titles on match books as they were played. So what happened if the bar owner continued breaking the law? After about sixty days of certified letter writing, they'd get a court order. Because it was a Federal Crime, the U.S. Marshall's Office would conduct the raid. They'd show up with a court order and thirty of the biggest, meanest, shotgun toting Deputies they could find. They are usually ordered to pad lock the premises. And to make sure the guy doesn't re-open after they leave, they empty his stock of liquor by pouring every bottle they can find, down the drain. That gets the bar owners attention real fast. So if you're an ASCAP songwriter, don't forget Bruce at Christmas time.

"far out man......"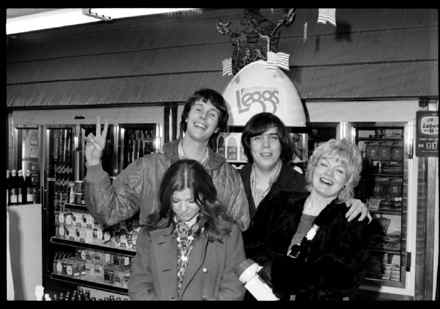 Bruce & Pat with a couple of ex-wives -- Bloomfield Hills, Michigan -- 1969