Pat Appleson Studios, Inc. has the solutions for your next project.

Voice overs & Production:
Here is a small sampling of the productions
and Voice Over Artists available. Please inquire as to your specific needs and budget.

Hispanic Voice Over Talent:


Spots on Hold Messages for your telephone system:

Pat's Country Classics®
Veteran radio personality Pat Appleson broadcasts America's Favorite Music® 3 hours, Live each weekend to great Over the Air Radio Stations in the US and Canada. Pat plays the hits from the late '60's thru '2010's. And along with artist interviews, listeners are invited to call in live on the air and request their favorite oldie. The three hour show is delivered live via satellite and is free to your station, subject to market availability. The tunes are selected from Pat's personal Compact Disc library, he played 'em way back when and now your listeners can hear them again. This is the perfect show to air if you're getting static from over 40 demos wanting to hear Merle Haggard and Tammy Wynette tunes. So be a hero for a change and turn a profit on Saturday nights. Pat is available for weekly Custom Promos for your station, personal appearances & sponsor endorsements. So take a listen, just download the Air Check, then call our Affiliate Relations Dept. at 828-994-4361 ..... And Put Pat's Country Classics® to work for you!
Live via Satellite
Uncompressed Digital Music Library, Real CD Quality Audio
Delivered FREE to your Station
Pat plays from over 3000 Bonafide Hit Records
Pat played these tunes when they were hits originally,
Just like his listeners, he remembers where he was the first time he heard them.
Yep, Pat's a "Country Music Veteran".
Pat picks the tunes all by himself.
No Focus Groups & No Agency Suits telling me what to play.
Oh yes, Pat's Country Classics is delivered FREE to your station.
Call now, before you loose market exclusivity and before you loose anymore listeners.

Some Facts about Country Music (just in case you're a program "director")
FACT: CRB Exec Ed Salamon predicts a "strong year" for Country radio. While album sales of most genres have declined, country music has experienced one of its best years.
FACT: over 50 Country stations presently ranked #1 in their market.
FACT: Country is still the most programmed format in the USA (according to INTEREP)
FACT: 2,133 out of the 10,571 commercial stations in the nation are Country-formatted
FACT: 41.9 million adults listen to the format each week
FACT: 62% of Country listeners are in the 25-54 demographic
FACT: 67% are in the 18-49 demographic
FACT: Listener median age of 42.6 years;
FACT: 66% live in metropolitan areas or suburbs
FACT: 73% live in $30,000 plus households
FACT: 49% live in $50,000 plus households
FACT: 77% own their primary residence
FACT: Of all formats, only Country and Gospel music sales are up this year.
FACT: Country music listening nationwide has remained steady for almost a decade, according to the radio-ratings agency Arbitron Inc.
FACT: Jimmy Buffett landed the first No. 1 album in his 30-year career when his "License to Chill" debuted atop The Billboard 200 and Top Country Albums charts at the same time.

Custom Radio Station Promos & Liners by Gary Alan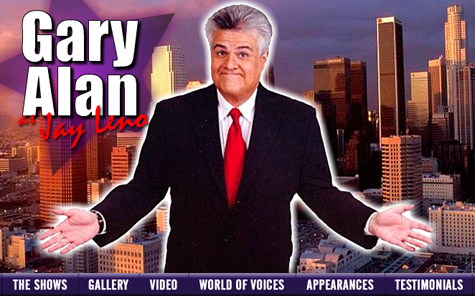 Today most Radio programmers think that a buzz saw guitar and a "Whiskey Rasp" voice will make their station stand out in the market. Too bad. Why not let America's Premier "Real Time" Voice specialist Gary Alan, get you the attention your product deserves. Gary's voice characterizations along with Pat Appleson as strait man, are being used as promos on top rated radio stations across the country. Take a listen, then call our Affiliate Relations Dept. at 828 994-4361