Pat Appleson Studios has the solution to your next project.

The Check is in the Mail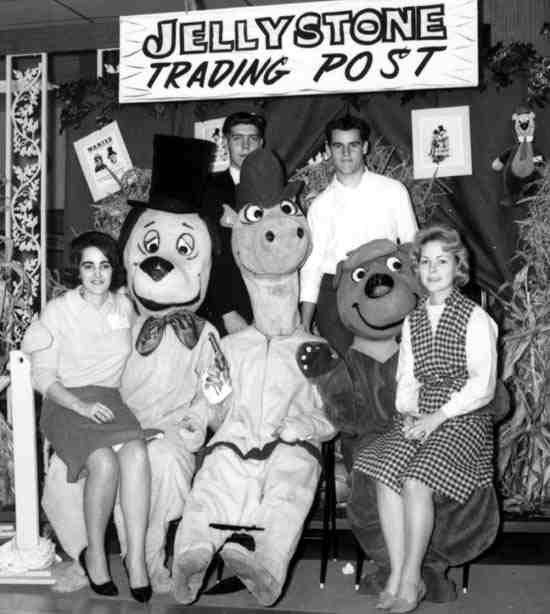 Front row L to R: Unidentified Sales Clerk, Huckleberry Hound®, QuckDraw McGraw®, Yogi Bear® & unidentified Sales Clerk. Back row, Pat Appleson, Emcee & Lee Rogers, FOH Mixer & Floor Manager.
"This it the first paying gig I ever had. Yogi & his friends came to a local Montgomery Wards store. Well, sort of. Hanna-Barberra sent a box full of costumes and a script. I was hired to be the emcee and round up a few of my junior high school friends to wear the costumes. There was no advertising for this appearance except for a couple of small signs in the store. But the cartoon series was hot and we did three shows a day for what looked like 500 screaming brats per show and their mothers. By the second show they hired security to protect the characters from being mobbed by adoring eight year olds. This was probably the best job we ever had, no auditions, no creative directors and no chasing the agency around for payment 120 days later. This proved to me that it's not what you know, it's who you know. My mom hired us, she was the store manager.
Pat Appleson, Pontiac, Michigan -- October, 1963

"Put Your Irons in the Fire"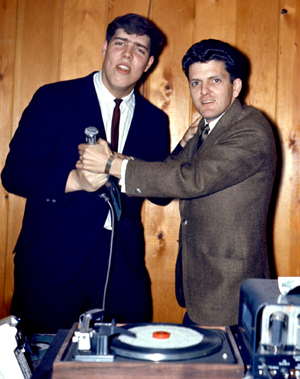 Johnny Irons passed away on January 4, 2009. _Click here, for more photos and newspaper stories
"Johnny Irons was the evening Top 40 personality at WPON in Pontiac, Michigan. The station was a 1000 watt non-directional at 1460 kc on the dial. But it had a strong following in suburban Detroit by covering more than one-third of the Detroit area. At the time the station was run by real pros and the client list showed it. Many Detroit proper stations would kill to have a list like WPON had. Johnny was much older than me, I was seventeen and he was a worldly twenty-four. Teenage dances were big at the time, with the big Detroit stations fronting three of four on a weekend. And guys like, soon to be WMCA-AM New York Radio Good-Guy, Gary Stevens cutting into our turf. He ran a Saturday night dance while a jock at WKNR-AM Dearborn, at the Waterford C.A.I. building. I thought the 'Pat the Fratt' thing was a little weird until I saw this guy put on a furry wolf suit, call himself the Wooly Burger and walk around the dance hall chatting up chicks. He looked like Chewy the Wookie's brother in law. So Johnny & I, with the stations blessing, opened The Fireplace.Which was really a VFW hall in nearby Keego Harbour. Things went well for about eight months. The bands would play free because we would say their name on the radio and they thought they'd get signed by Motown or somebody. We got the Radio Spots free, management didn't care just as long as the other spots ran and we logged everything to keep it legal. Everything was ok until the Keego Harbour Police Dept. figured out that we were hiring off duty Oakland County Sheriffs Deputies for security instead of them. So they got our 'cabaret license' revoked. When Johnny heard about it, he locked himself in the control room and played Town Without Pity by Gene Pitney for seven and a half hours straight. The station made the newspapers the next day."
Pat the Fratt, Keego Harbour, Michigan -- November, 1965

"The Wide Track Sound in Wide Track Town"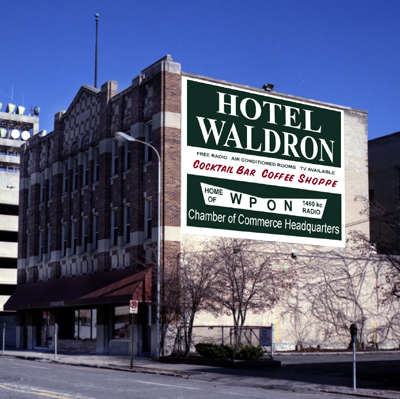 "WPON Radio, with Studios in the Waldron Hotel"
This was my first real radio job. I answered an ad on the student bulletin board in college and got the job. Record spinner. Cool. As I recall, part-timers were paid the minimum wage, something like sixty-four cents per hour. I didn't care, I'd a paid them. I stayed for four years and to say I learned a lot is an understatement. Everyone there was very professional and would move on to the big Detroit stations or directly to the networks. There are techniques and things I learned at WPON that I still use today, everyday.
This photo was taken last year. The original main building was knocked down and a microwave tower was erected. The hotel used to cover a city block, now it's just an office building. The sign on the side was restored in Adobe Photoshop® to it's original look, right down to the sign painter's alignment errors on the call letters. It was on the occasion of my best friend's [Bruce Hobart] surprise 50th. birthday party in nearby Birmingham that I found myself with a few minutes to drive around town. I had to get this shot fast, before the camera froze up. It was around 9:30am in February and the temperature was 18º F (-7ºC), with a 15 m.p.h. wind. Crisp air, blue sky. (we helped the sky in Photoshop, just a little). For you hard core camera geeks: The film was Kodak Vericolor III-100® color negative in a medium format Hasselblad CX-503i with Zeiss T* 80mm Lens. f8 at 250th. with a Kodak Wratten® #UV 1-A filter. Proc C-41 regular soup, no push. Scanned in at 800lpi on a 36 bit Agfa Arcus II®.
Pat Appleson, -- February, 1997

It's a 45 rpm Record.....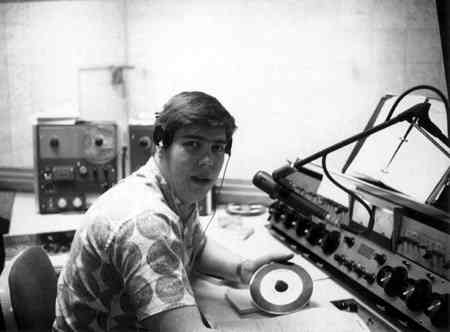 "WPON got a control room rebuild in the summer of 1967. Chief Engineer Karl Kuck let me get in the way. I learned alot. Major items were the console, a Gates 'Diplomat' ten channel, in mono of course. And a new Gates transmitter controller for remote telemetry. We used the same cart machines after the rebuild. They were RCA RT-7/B's. The ones with the big round eject button in the middle. Karl had 'em tweaked pretty good, so if you pressed eject and didn't have you hand in the way, it would zing 'em across the room! The tape decks behind me looked like Ampex 601's but were a copy by Roberts Electronics that the station got in a trade deal. I believe they were OEM'ed by Akai Electric in Japan. They worked, in fact they worked well. Everything Karl Kuck touched, work well. He came from the build it yourself school and it was nothing for him to construct from a component level a mixer or amp needed for a remote at the end of the week. The guy was fabulous."
Pat the Fratt, WPON-AM, Pontiac, Michigan -- June, 1967

"Tell 'em J.I. sent you by"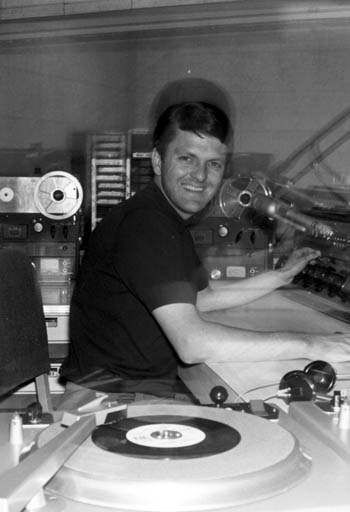 Johnny Irons passed away on January 4, 2009. _Click here, for more photos and newspaper stories
"I guess Johnny was jumping around to the music and we got a double exposure. This is the only shot of Mr. Irons at the WPON console that I could find. Two years later he would rent a ski lodge in the summer and hold dances, at Mount Holly between Flint & Pontiac Michigan. By now Johnny had left WPON and worked for WTAC-AM in Flint. It was a power house, I believe 10 Kilowatts and at 600kc on the dial. Weetac, the Big 6, covered Flint/Saginaw/Bay City with no problem. I saved good natured Johnny from going to jail for murder. The band he had hired, apparently was an off shoot from the MC5, and we didn't know much about them. All of a sudden I was on stage pulling Johnny off this guy. Johnny had succeeded in wrapping a mic cable around the guys neck and had him down on the floor choking him. Apparently the 'artiste' had urinated on stage and when Johnny told him to quit, he flipped him the bird. Mr. Irons had all his own money riding on this venture and didn't want that kind of reputation. So he went nuts and jumped the guy. Never paid him either. The 'singer' disappears. I remember him as this skinny, nasty little man in a dirty tee shirt. If he's a singer, I'm Robert Goulet. After all these years, I'm watching David Letterman six months ago and an older, uglier version of the same guy turns up. It's the same guy all right. Iggy Pop, allegedly famous English Rock Star.
Pat the Fratt, WPON-AM, Pontiac, Michigan -- June, 1967